28: THE CREATIVE EFFECTIVENESS AWARD (THE CREATIVE EFFECTIVENESS AWARD)
JPG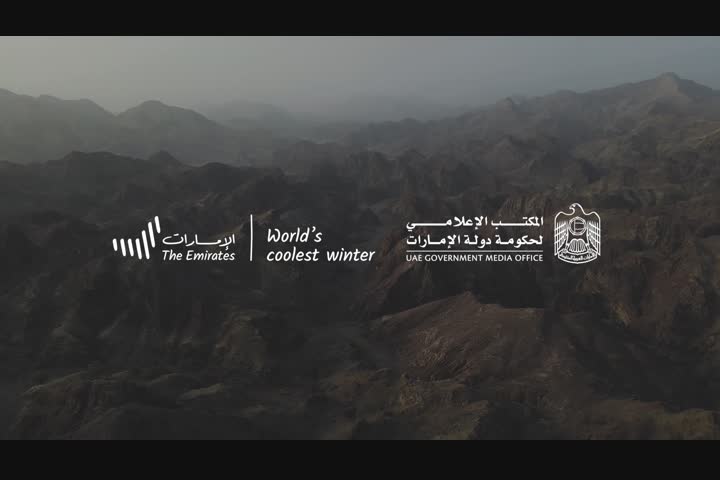 MP4 2m:14s
A Winter Through My Eyes - The UAE Government Media Office
The World's Coolest Winter Initiative
Shortlist
Title of Entry:
A Winter Through My Eyes
Brand:
The UAE Government Media Office
Product/Service:
The World's Coolest Winter Initiative
Client:
The UAE Government Media Office
Entrant Company:
The UAE Government Media Office
Creative Team:
Khaled AlShehhi, UAE Government Media Office, Executive Director of Marketing and Communications

Ammar Al Khrisat, UAE Government Media Office, Executive Producer

Latifa Almarzooqi, UAE Government Media Office, Senior Social Media Manager

Ghaya Albannay, UAE Government Media Office, Social Media Specialist

Tahaab Rais, Dejavu Dubai, Film Director

Manasvi Gosalia. Dejavu Dubai, Founder and Executive Producer

Tahaab Rais, Dejavu Dubai, Writer

Kavya Iyer, Dejavu Dubai, Head of Production

Sampada Harkara, Dejavu Dubai, Producer

Aeyaz Hassan, Dejavu Dubai, Director Of Photography

Rizwan Maple, Dejavu Dubai, Editor

Rafic Sawaya, Dejavu Dubai, Post Producer

Georges Cassab, Dejavu Dubai, 1st AD

Danielle Baraka, Dejavu Dubai, Production Manager

Artem Streltsov, Dejavu Dubai, Production Coordinator

Joseph Kfoury, Dejavu Dubai, Focus Puller

Ali Ayach, Dejavu Dubai, 2nd AC

Cai Willis, Go Aerials, Drone Pilot

Will Ferguson, Go Aerials, Drone Camera Operator

Aladdin El Sherbiny, Go Aerials, Drone Technician

Walid Hamieh, Dejavu Dubai, Gaffer

Elie Eid, Dejavu Dubai, Sparks

Jithu Das, Dejavu Dubai, Sound

Khaled Abdelnaser, Dejavu Dubai, Sparks

Shahid Iqbal, Dejavu Dubai, Sparks

Christina Chole, Dejavu Dubai, Wardrobe & stylist

Samantha Ayoub, Dejavu Dubai, Hair & Make-Up

Adarsh Arjunan, Dejavu Dubai, Location Manager

Danish Raza, Dejavu Dubai, Assistant Location Manager

Karim Mira, LZRD, Colouring & Grading

Wilbur D'Costa, MangoJam Studio, Executive Producer

Vaughan Gardiner, MangoJam Studio, Music / Sound engineering

Ameen Alobaidi, MangoJam Studio, Music / Sound engineering

Shivani Sehgal, MangoJam Studio, Producer and Vocalist


Submission Text:
BACKGROUND:

There is no better way to experience the UAE than in winter.

Amidst the pandemic, the UAE's tourism has recovered the quickest globally. The seven emirates that form the UAE have rich history, geography, nature, urban architecture, and community. The UAE's archaeological sites, culture centres, historical landmarks, and nature reserves, offer visitors a holistic experience.

And carried out by the UAE Government Media Office, in collaboration with the Ministry of Economy and relevant tourism and culture entities, "The World's Coolest Winter" platform was launched to celebrate and promote the UAE's most beautiful tourism experiences and hidden gems.

We were briefed to create a moving and uplifting story that showed the rare and holistic beauty of the UAE. But the client ambition was to not create another typical campaign about the UAE with celebrities and touristic content, but to intently, do something different and create a travel story that would travel.

STRATEGY:

Usually, in the region, we see travel influencers promoting the beauty and wonders of a place, or celebrities in ads, or generic cliché-ridden manifesto films.

But we chose to put a different spin to travel marketing by influencing and inviting tourists to enjoy winter differently by seeing the UAE through a different set of eyes.

Our strategic ambition behind the work was to create a human story and not a typically produced tourism commercial.

We wanted people to feel connected to our story (and to our protagonist), on a personal level.

We wanted them to feel the unbridled joy and happiness of enjoying the experiences in the UAE. And we wanted it to be an authentic story that wasn't scripted.

This would help us be more distinctive and earn endorsements from influential figures and media, giving the message the amplification and the expansion needed to make an effective impact.

CREATIVE IDEA:

When we really want to feel something, we don't need to look with our eyes. We need to look with our hearts.

To show the beauty of winter in the UAE, a winter unlike any other, we found a unique and meaningful perspective, creating a tourism campaign unlike any other.

Called 'A Winter Through My Eyes', the idea encompassed in a short film, tells the story of a 11-year-old girl, Clara, who has been visually impaired since birth, who got the opportunity to enjoy "The World's Coolest Winter" in the UAE.

Clara was flown to the UAE and in an all-expenses paid trip across the 7 diverse Emirates, her first trip abroad, over a period one week, she experienced the country's distinctive destinations and hospitality.

A production crew followed her every day, documenting her real emotions and journey into a compelling story that shows her unique, unfiltered, and authentic perspective.

THE FILM:

To tell the story of a child who cannot see, we didn't want to cast a child actor to act visually impaired.

We wanted to capture the story of a child who really cannot see, to be sincere and truthful.

We heard about and met 11-year-old Clara.

She's a fun-loving child, with unbridled joy, full of hope and an absolute fan of life. Importantly, she was up for an adventure.

Next, we wanted to give her the best and safest experience across the UAE.

So, the entire team was directed to be her travel guides (not a production crew).

The vision was for Clara to have fun. It was about her expressing her feelings while discovering the UAE; not us shooting a pre-defined shotlist.

All we needed to do was create the environments within the beautiful landscapes, for Clara to fill with her innocence, and her authentic and unfiltered emotions.

EXECUTIONAL CONSIDERATIONS:

To make sure Clara was comfortable and genuinely enjoyed her trip, we hired an expert in working with children who were visually impaired, to guide us through the process.

For instance, we had to be careful that she didn't hurt herself during her journey, because she was enthusiastic (as any child is, when having a great time!) and would tend to wander away. Given the locales we were shooting in, we needed the expert around her all the time.

Then, we had to be conscious that because she was unable to see, we needed to not overwhelm her auditory senses (i.e., less people around her and less loud noises were a rule).

Also, she only resonated with the voices of her aunt, the expert, the director, and the 1st AD. So, only those people would speak to her about what was happening and keep her entertained throughout the filming process.

GIVING THE FILM SCALE:

The film that was promoted across media.

We connected with and gained endorsement from the UAE's Deputy Prime Minister, Saif Bin Zayed, who shared the film and stated, "Shows how real joy is felt through one's heart. Not through one's eyes".

With this endorsement, the film travelled virally.

We engaged popular news platforms worldwide who shared the film and the story to help amplify it further in media.

And popular media publishing platforms locally, regionally, and globally featured the story too, giving it reach and visibility.

RESULTS:

In giving Clara a holiday that she loved, the UAE's message was loved by all.

By marketing media:

"Unique, unfiltered, and authentic perspective." (Shoot)

"Inclusive tourism gets a boost from UAE." (TrendHunter)

"Beautiful visuals. Incredible sound. A human story." (Little Black Book)

"Cuts through the formula of travel advertising." (The Stable, Australia)

"An unexpected, emotional and uplifting film." (CMOs Magazine)

By people worldwide:

"A statement about inclusive tourism." (Veronica Smulders)

"I'd like to donate my eyes, for people, when my life ends." (Amit Kumar)

"Perfectly shows the country's focus on people with determination." (Carlos Casta)

"The perfect way to show UAE's beauty." (Aman Dhami)

And was effective:

31.2 million cross-platform views.

1.1 billion global impressions.

6,870 free media mentions.

41,139 hashtag mentions for the campaign.

$1.4 million earned media value.

+18% winter tourists.

Top 3 films for direction globally (AdForum).

Most Shared Film in Winter 2021/2022 (Source: WhatsApp, Social bakers).