4: AMBIENT & EXPERIENTIAL (Ambient)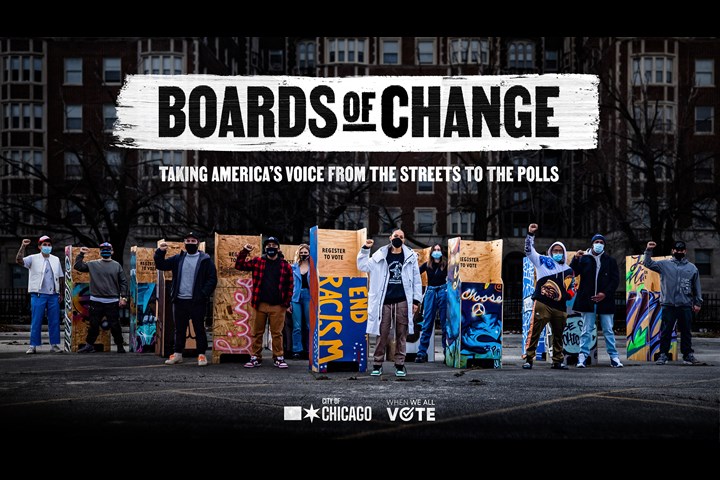 JPG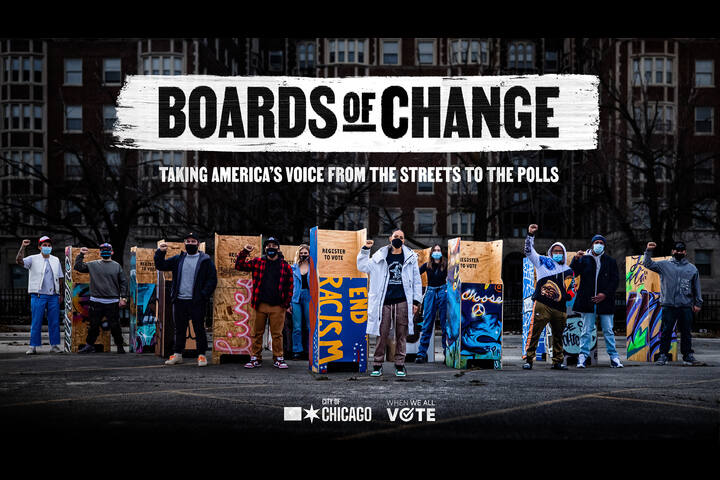 MP4 2m:15s
Boards of Change - City of Chicago
City of Chicago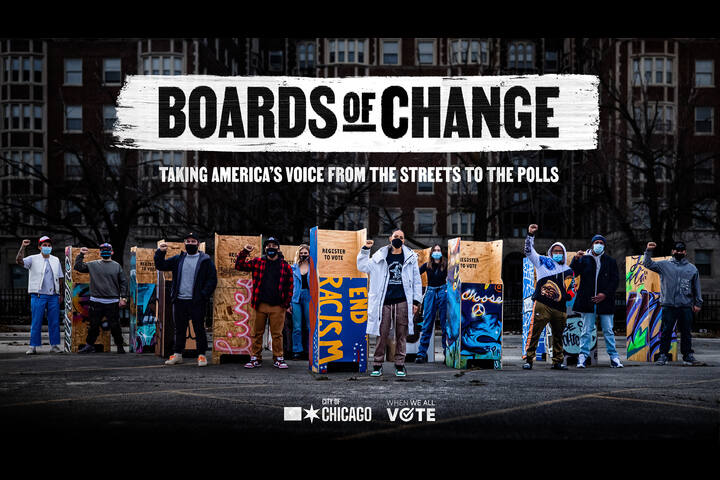 Gold
Title of Entry:
Boards of Change
Brand:
City of Chicago
Product/Service:
City of Chicago
Client:
City of Chicago
Entrant Company:
FCB Chicago
Creative Team:
Chief Creative Officer: Andrés Ordóñez
Worldwide Creative Partner: Fred Levron
EVP, Executive Creative Director: Avi Pinchevsky
SVP, Creative Director: Tor Lemhag
VP, Head of Copy: John Fiebke
VP, Creative Director: Justin Enderstein
Creative Director: Niels Sienaert
Creative Director: Tim Schoenmaeckers
Associate Creative Director: Jason LaFlore
Sr. Art Director: Mateus Cerqueira
Sr. Copywriter: Wojtek Kowalik
Art Director: Dwight Williams
EVP, Head of Design: Kevin Grady
Designer: Jack Fleming
Other Credits:
President: Kelly Graves
SVP, Management Director: C.J. Nielsen
Account Director: Ally Khajenouri
Account Supervisor: Emily Smith

Director, Project Management: Kristin Oberg
Sr. Project Manager: David Leverentz

EVP, Engagement Planning Director: Jenn Chiang
SVP, Planning Director: Marc Wilson
VP, Strategic Planning Director: Brian Asner
Sr. Engagement Planner: Chelsea Ferguson

EVP, Head of Production N.A.: Kerry Hill
SVP, Executive Producer: John Bleeden
VP, Director of Production: Joe Tipre
EVP, Director of Branded Content & Entertainment: Juan Woodbury
SVP, Managing Director, Print Production: Erika Pflederer
Executive Producer: Stacy Miller
Executive Producer: Carolina Velez
Associate Producer: Anita Koltun
VP, Director of Business Affairs: Jeff Cowie
Studio Technician: Rickey Rogers

Lord & Thomas
VP, Creative Director, VFX: Brian Steckel
Executive Producer: Celena Mossell
VP, Director of Motion Design: Roman Mendez
VP, Director of Editing: Steve Immer
Executive Producer: Dan Delaney
VP, Director of Audio: Jason Ryan
Director of Photography & Editor: Nate Brav-McCabe
Photographer: Steven Piper
Senior Motion Designer: Anthony Palermo
Motion Designer: Michael McAfee
Line Producer: Noiemi Lobont
Associate Producer: Sarah Symmonds
Assistant Editor: Megan Connolly
456 Concierge: Shawn Ellis

FCBX
EVP, Head of Experiential: Kim DeNapoli
SVP, Managing Director: Jeannine Aniol
Account Director: Tara Reardon
Assistant Account Executive: David Compher

Current Global:
General Manager North America: Amy Colton
Senior Vice President: Shannon McGovern
Senior Associate: Josephine Mallari
Senior Associate: Logan Pellegrom
Senior Associate: Taylor Peko-Reid

JSM: Music
CEO/CCO/Co-Composer: Joel Simon
VP, Executive Producer: Jeff Fiorello
Producer: Norm Felker
Producer: Andrew Manning
Producer: Sharon Cha
Co-Composer: Rebecca Riter

Sector:
03: PUBLIC INTEREST OR CHARITY
Notes:
Boards of Change brought America's disenfranchised voices from the streets to the polls. Plywood boards that barricaded storefronts during the Black Lives Matter protests, filled with messages of unity and justice, were turned into voting booths. They inspired residents in dozens of Chicago's low-turnout neighborhoods to create systemic change through the power of their vote and enabled them to register. Amplified by outdoor, social media, and national PR, Boards of Change empowered Black Americans to know their vote counts and helped Chicago attain a record number of registrations and voters.