24: THE MEDIA MAGIC AWARD (THE MEDIA MAGIC AWARD)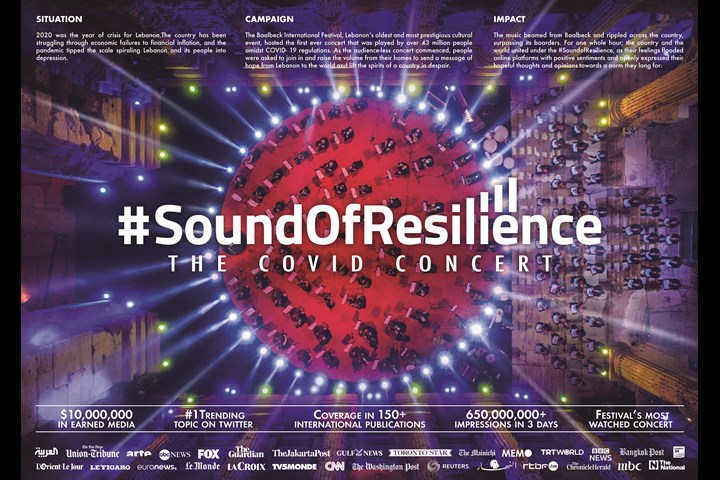 JPG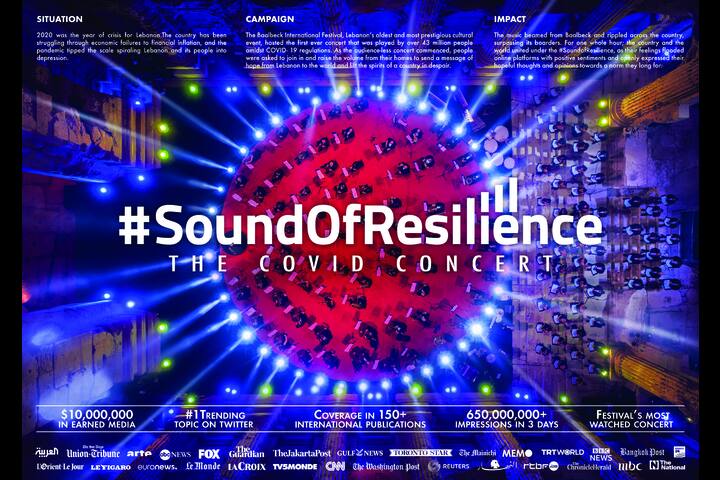 MOV 1m:57s
#SoundOfResilience - Baalbeck International Festival
Baalbeck International Festival 2020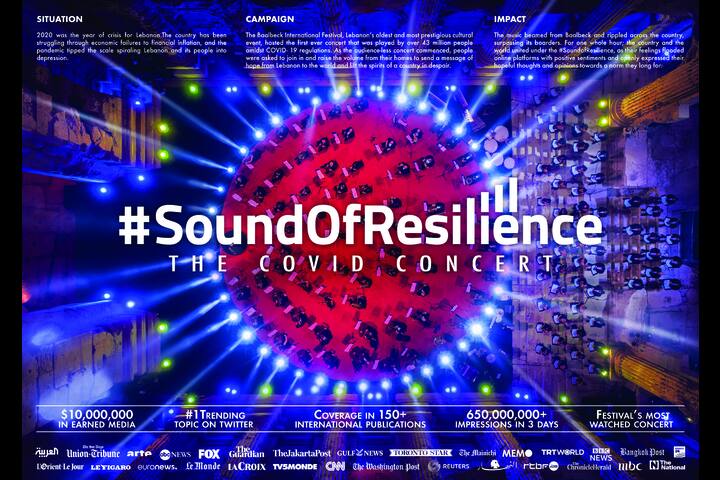 Bronze
Title of Entry:
#SoundOfResilience
Brand:
Baalbeck International Festival
Product/Service:
Baalbeck International Festival 2020
Client:
Baalbeck International Festival
Entrant Company:
IMPACT BBDO
Creative Team:
EXECUTIVE CREATIVE DIRECTOR: JOE ABOU-KHALED
CHIEF EXECUTIVE OFFICER: DANI RICHA
CHIEF CREATIVE OFFICER: PAUL SHEARER
MANAGING DIRECTOR: EMILE TABANJI
SENIOR ART DIRECTOR: ANTHONY ASMAR
SENIOR COPYWRITER: MARIA ETRE
SENIOR DIGITAL STRATEGIST: JAMES FOX
AGENCY PRODUCER: RAWAD KEYROUZ
MULTIMEDIA EDITOR: RAMY TANNOUS
Other Credits:
BIF - PRESIDENT: NAYLA DE FREIGE
BIF - DEPUTY DIRECTOR: MAYA HALABI
BIF – GENERAL MANAGER: GUY YAZBECK
CONDUCTER & ARTISTIC DIRECTOR: HAROUT FAZLIAN
SCENOGRAPHER: JEAN-LOUIS MAINGUY
PHOTOGRAPHER: CARLOS HAIDAMOUS
LBCI – CEO: PIERRE DAHER
LBCI - TV DIRECTOR: BASSEM CHRISTO
Sector:
N/A
Notes:
The Baalbeck International Festival is a symbol of entertainment worldwide. Its reputation precedes it when it comes to being an icon of music and culture. It has been on-going for 64 years, however this year, like most concerts it was doomed to be canceled due to COVID pandemic regulations. We revived the experience of a live concert with a unique scenography and performance amidst COVID restrictions via an audience-less concert that was hosted on premises and broadcast live on TV, radio and online channels. The Orchestra played and 43 million people globally; joined in by raising the volume from home.

We wanted to persist with the #SoundofResilience without breaking any lockdown regulations.
The Baalbeck International Festival hosted the COVID concert in its historical temple to witness the resilience of its audience with zero attendance. The National Philharmonic Orchestra played and 43 million people from around the world joined in by raising the volume of their TV's. We collaborated with 10 TV stations nationally and regionally to live broadcast the concert in prime time. The 0-audience concert had a worldwide attendance and rippled message of hope and strength from a country on its knees to empower spirits in these difficult times.

Baalback temples mirror the glory of Lebanon. These majestic pillars reveal the essence of resilience and strength as they have withstood the toughest of times, just like the Lebanese people, as they have witnessed multiple atrocities across the recent years. They've been living in political corruption, inflation, a pandemic and have been victims to the biggest non-nuclear explosion. We needed something that would touch their hearts and empower their souls in times of crisis, so we used music to unlock their strength.

We launched a music festival during the toughest and most restricting times and hosted it in a 3,000-year-old- ruin. A series of awareness and promotional posts, announcements and informative communication material were published online and on television to announce the event. The main national TV channel had a counter, counting down to the most awaited event of the summer. On the day of the audience-less concert, the anticipation was high, on-ground and online and 100 million people were asked to raise the volume from their homes. The concert was projected on outdoors, and on the Lebanese National Museum's façade. Spectators flooded online platforms from all over the world as the #SoundOfResilience beamed from Baalbeck. The COVID concert entertained the world for one solid hour, when it usually would be restrained to a limited number of ticket buyers.

With an accumulated value of 10 million Dollars in earned media, the #SoundOfResilience was #1 most watched concert of all time, making it the #1 topic on international media, Twitter and Instagram with over 650 million impressions in just 3 days. Coverage in over 150 international publications (Including The Washington Post, The Guardian, CNN and Euronews). Live broadcast for free on LBCI, MBC4, MTV, TL, OTV, NBN, and SHAHED VIP. 43 million viewers attended the show versus a full-house Baalbeck concert that doesn't fit more that 3000 attendees. We built awareness and brand love for Baalbeck International Festival brand. Fans grew 26% on their social media pages, and a massive 160% growth in subscribers on YouTube. People's engagements flooded these platforms with positive sentiments and openly expressing their hopeful thoughts and opinions towards a country they long for and more importantly raising its spirit when it had lost all hope.