5: SOCIAL (SHORT-FORM EPHEMERAL CONTENT (SNAPCHAT, INSTAGRAM STORIES ETC))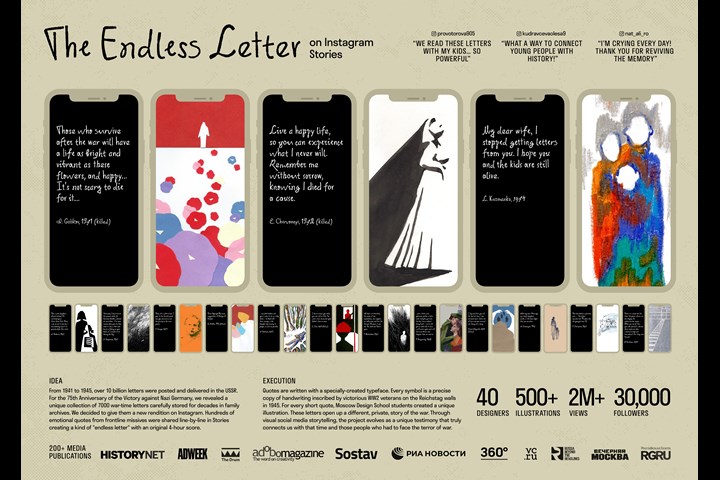 JPG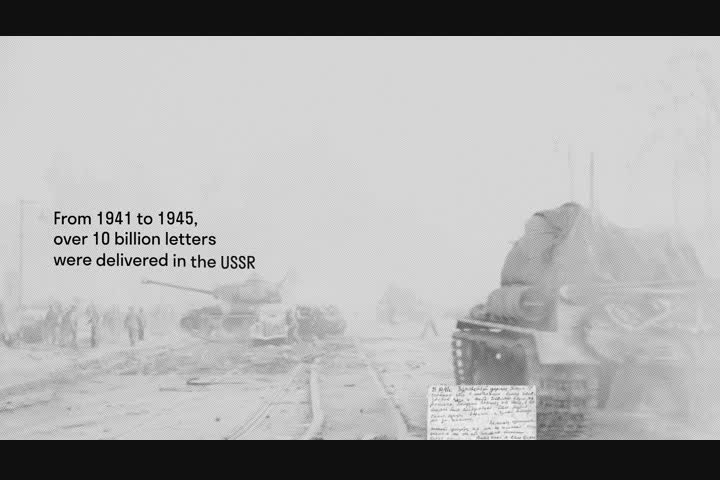 MP4 1m:55s
The Endless Letter On Instagram Stories - RT
Social media project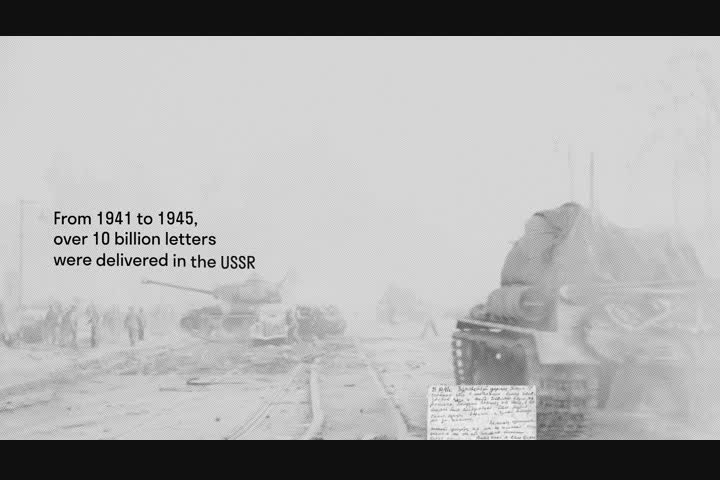 Bronze
Title of Entry:
The Endless Letter On Instagram Stories
Brand:
RT
Product/Service:
Social media project
Client:
RT
Entrant Company:
RT Creative Lab
Creative Team:
Creative Director: Kirill Karnovich-Valua
Designer: Revaz Todua
Creative Producer: Elena Medvedeva
Producer, Artist: Ania Fedorova
Social Media Strategy: Gleb Burashov
Art Direction at RANEPA: Katerina Terekhova
Curator at RANEPA: Serge Serov
Music & Sound design: Maxim Makarychev
Producer: Eldar Salamov
PR: Lilly Kazakova
Producer: Ivor Crotty
Administrative Manager: Margo Tskhovrebova
Research & data: Ivan Fursov
Producer: Katya Motyakina
Designer at Contrast Foundry: Maria Doreuli
Designer at Contrast Foundry: Nikita Sapozhkov
Designer at Contrast Foundry: Liza Rasskazova
Artist: Peter Bankov
Artist: Mikhail Sorkin
Artist at RANEPA: Alla Dimaryova
Artist at RANEPA: Ana Green
Artist at RANEPA: Anahanum Esedullayeva
Artist at RANEPA: Anastasia Kazachkova
Artist at RANEPA: Angelina Bagdasaryan
Artist at RANEPA: Anna Zakharova
Artist at RANEPA: Irina Chigrinova
Artist at RANEPA: Irina Uladayeva
Artist at RANEPA: Alana Zekeyeva
Artist at RANEPA: Alyona Khudyakova
Artist at RANEPA: Alyona Redikultseva
Artist at RANEPA: Alisa Patrina
Artist at RANEPA: Anastasia Manysheva
Artist at RANEPA: Anastasia Ryabinina
Artist at RANEPA: Arina Bychkova
Artist at RANEPA: Baina Muchkayeva
Artist at RANEPA: Daniil Protasov
Artist at RANEPA: Daria Kondakova
Artist at RANEPA: Diana Yaroslavtseva
Artist at RANEPA: Ekaterina Fateyeva
Artist at RANEPA: Ekaterina Gashnikova
Artist at RANEPA: Evgenia Zaikina
Artist at RANEPA: Irina Gorelikova
Artist at RANEPA: Julia Fyodorova
Artist at RANEPA: Kira Goldobina
Artist at RANEPA: Kseniya Pasternyak
Artist at RANEPA: Liza Razzhivina
Artist at RANEPA: Liza Tikhanskaya
Artist at RANEPA: Maria Afonchikova
Artist at RANEPA: Maria Alekseyeva
Artist at RANEPA: Maria Spevakova
Artist at RANEPA: Maria Timoshenko
Artist at RANEPA: Nauel Benku
Artist at RANEPA: Polina Kashintseva
Artist at RANEPA: Polina Zolotova
Artist at RANEPA: Sasha Ashikhina
Artist at RANEPA: Svetlana Vinogradova
Artist at RANEPA: Uliana Budennaya
Artist at RANEPA: Uma Rabadanova
Artist at RANEPA: Valeria Zhalnina
Artist at RANEPA: Yana Nesterenko
Sector:
03: PUBLIC INTEREST OR CHARITY
Notes:
OBJECTIVE
Between 1941 and 1945 over 10 billion letters were posted and delivered in the USSR. Ahead of the 75th anniversary of the Victory against Nazi Germany we have revealed a unique collection of 7,000 letters that were carefully preserved for decades in family archives. So we decided to give them a new read in the format of Instagram Stories.

"Endless Letter" is a unique graphic series featuring hundreds of excerpts from original WW2 front-line letters with illustrations created by young students of the Moscow RANEPA Design School as well as renowned artists Peter Bankov and Mikhail Sorkin. Emotional quotes from frontline missives were shared line-by-line in Stories creating a kind of "endless letter" with an original non-stop score by young Russian composer Max Makarychev. Letters from military schools, from the front line, from factories, hospitals and abandoned homes, some filled with hope, some carrying cherished last words.

"Endless Letter" – is an emotional bridge between today's peace and the horrific times of war when, against all odds, people loved, dreamed, experienced faith and anxiety. With "Endless Letter" our objective was to link the generations by narrative and visual means, with hope that our contemporaries and descendants will understand why this page of history should never be repeated.

This project is about the fate of an ordinary person. A soldier. A wife. A mother. A child. A father. It is a story of families who had to face such a horrid burden - a story about millions of people who lived and died during the second World War. One can only truly understand the full scale through emotional experience: through personal stories. And there is nothing more personal than letters.

STRATEGY
The team worked with the renowned "Letters from the front" archive, perhaps, the most full collection of families' war-time letters. It took the authors over 5 years to gather thousands of frontline letters from all over Russia. We decided to use the piercing quotes to create the "Endless Letter" and post them as Instagram Stories.

We partnered with Moscow's RANEPA Design School to make artistic illustrations to accompany each quote. Teachers, students, as well as famous artists Mikhail Sorkin and Peter Bankov took part in the project. Participation in the project was significant for students not only on an educaitonal level, but also as a human experience, deeply affecting their emotions, feelings of empathy and compassion. It resulted in over 500 illustrations in a variety of shapes, from collages to portraits.

A specially composed 4-hour-long continuous soundtrack by Maxim Makarychev adds to the atmosphere of the "Endless Letter". Together with the music and illustrations the letters' phrases create a touching emotional effect. One can vividly imagine how authors of the letters missed their homes, worried for their mothers and fathers, desired to live and went to their death.

The project features the unique #VictoryFont "May" which was created specially for the project - behind each character is a documented Reichstag inscription, hand-written 75 years ago by soldiers who conquered Berlin in 1945.

These letters open up a different, private, story of the war; it is a unique testimony that truly connects us with that time. They speak of daily life during the war - what soldiers saw on battlefronts, how their families survived back at home, what people dreamed of, what they hoped for. More than 500 short quotes and accompanying illustrations by young designers are put together into a single "graphic" narrative on Instagram Stories to a non-stop original music score.

Endless Letter expanded the reach by also going offline as a large-scale exhibition was held in 12 main parks in Moscow. Over 250 unique posters were specially created for this out-of-home experience which also had an interactive element - many of the illustrations could be brought to life through a special AR App. Tens of thousands of park-goers interacted with the project and had a chance to watch the static images turn into animated musical shorts by hovering their smartphones over the prints.

RESULTS
"Endless Letter" uses the format of InstaStories in an innovative way by adapting historical WW2 family letters to an illustrative narrative, giving these historical artefacts a new life on social media. The project uses Stories to revive memory of the horror and pain of WW2. We wanted young people to 'experience' the sacrifices and struggles of millions to bring peace to their homeland by communicating the story in a simple yet striking audio-visual format on social media. That's why we chose Instagram Stories - instead of a giant tranche of archive letters, we present curated short lines with illustrations that transfer the emotional essence of those tragic times into the present. The short quotes create a "digital" letter - an Endless Letter - a private Story of the country that lost over 25 million people between 1941 and 1945.

Project results and numbers:

- 40+ young artists

- 500+ unique illustrations

- Non-stop Instagram Stories soundtrack over 4 hours long

- Over 2 million views

- 100,000 engagements

- 30,000 subscribers

- Over 200 media mentions

Being part of a bigger #VictoryPages project, Endless Letter helped attract over 35 million social media impressions in total.