9: INTEGRATED (INTEGRATED)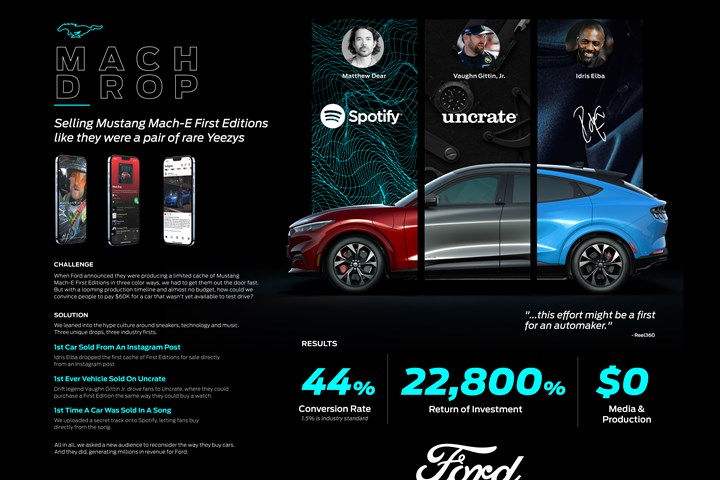 JPG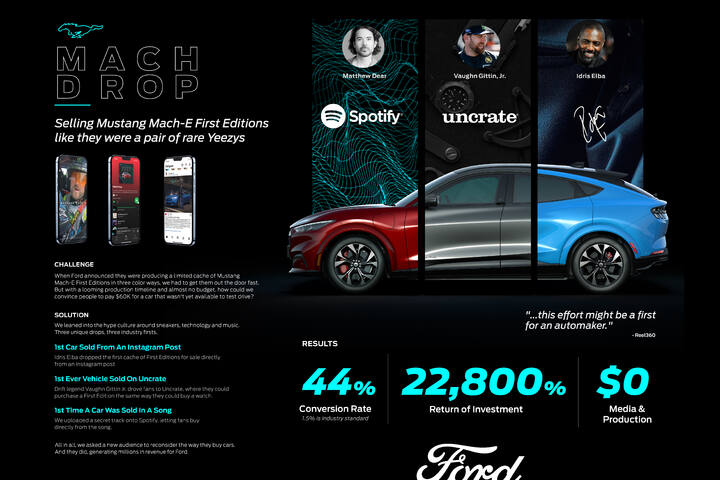 MP4 1m:53s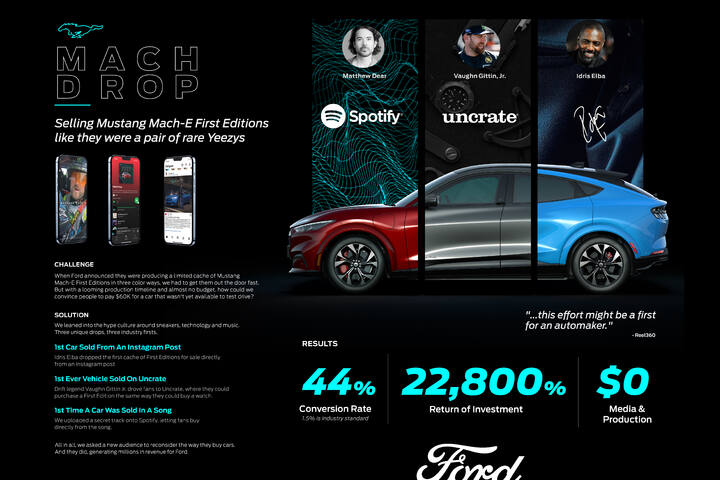 MP4 1m:53s
Ford Mach Drops - Ford
Mustang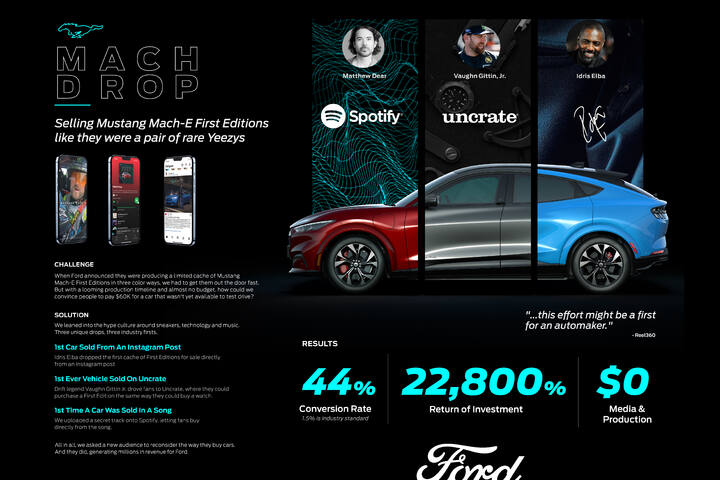 Bronze
Title of Entry:
Ford Mach Drops
Brand:
Ford
Product/Service:
Mustang
Client:
Ford
Entrant Company:
BBDO New York
Creative Team:
Creative Agency: BBDO, New York
Chief Creative Officer, Worldwide: David Lubars
Executive Creative Director: Philip Sicklinger
Executive Creative Director: Alex Booker
Group Creative Director: Rob Kurfehs
Creative Director/Art: James Salanitri
Creative Director/Copy: Brian Kunath
Associate Creative Director/Art: Frederick Orlando
Executive Vice President, NA Business Lead: Joe DiMeglio
Senior Vice President, Group Account Director: Liz Boone
Account Supervisor: Allison Piper
Senior Project Manager: Michael Green
Associate Planning Director: Christine Quigley
Planner: Philip De Meulemeester
Planner: Joseph Castagna
BBDO Communications: Kate Kelley
Head of Tactile Innovation: Vishal Dheiman
Executive Vice President, Group Executive Producer: Diane Hill
Executive Producer: Katie Young
Partner Relations: Sami Kriegstein Jacobson
Production Services Director: Jess Nugent
Concierge Partner: OneMagnify
Social Agency: GTB
Experiential Agency: GMR
PR Agency: Ketchum

Sector:
01: CONSUMER PRODUCT OR SERVICE
Notes:
The Mustang Mach-E is a first for Ford: an all-electric performance vehicle with the soul of a Mustang. This is bigger than cars, it's culture.

Mach Drop embraced the wider hype culture of sneakers, fashion and music, where limited drops have people scrambling to get the goods before they're gone. We put the special edition Mustangs on offer like they were a pair of rare Yeezys, and managed to accomplish a number of firsts in the industry.