17: PRINT CRAFT (OUTSTANDING COPYWRITING)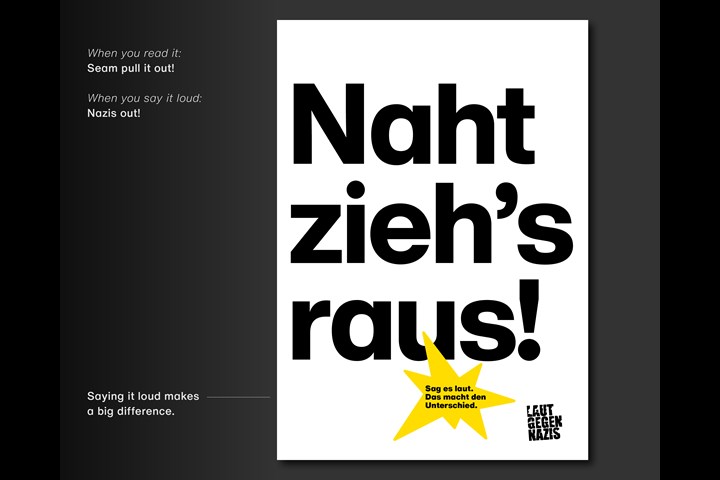 JPG
Say it loud. Make a difference. - Laut gegen Nazis
Laut gegen Nazis e.V.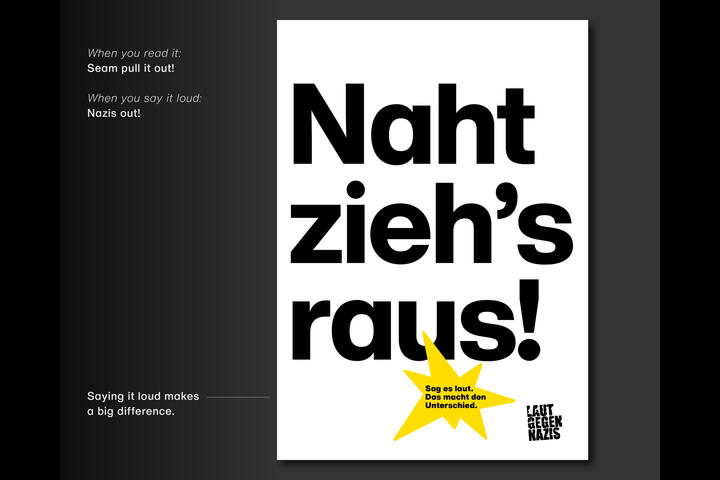 Bronze
Title of Entry:
Say it loud. Make a difference.
Brand:
Laut gegen Nazis
Product/Service:
Laut gegen Nazis e.V.
Client:
Laut gegen Nazis
Entrant Company:
SERVICEPLAN GERMANY
Creative Team:
Global Chief Creative Officer: Alex Schill
Chief Creative Officer Germany: Matthias Harbeck
Creative Managing Partner: Alexander Nagel & Christoph Everke
Managing Partner: Michael Jaeger
Management Supervisor: Daniel Hartmann
Creative Director: Matthäus Frost & Laura Müller-Rossbach
Digital Creative: Philipp Elsner
Copywriter: Stefan Ott
Final Art Director: Alexandra Felbinger
Copywriter: Hendrik Haupt
Senior Account Manager: Jonas Herr
Trainee: Marie Dodillet
Head of Strategic Buying NonTV/NonDigital: Julia Cathrin Wallner
Director Strategic Buying Digital: Emanuele Fino
Planer/Consultant Digital Media & Creative Media Man: Maximilian Leipert
Senior PR & Content Consultant: Birgit Koch
Junior PR & Content Consultant: Alena Hermann
Senior Strategic Buyer: Serkant Oguz
Junior Digital Media Planner& Consultant: Anabel Stemberger
Group Head Digital Media: Caroline Franke
Sound Design: Richard Williams & Jan Finck B.
Producer: Camilo Remolina & Anna Wegner
Other Credits:
Media Agency: MEDIAPLUS GERMANY
Additional Media Agency: Mediascale
Film Production Company: ITS US Media
Sound Design/Music Company: Hastings Music
Publisher: FUNKE Mediengruppe, Ad Alliance, TikTok Germany, United Internet Media, BurdaForward, Quarter Media, Ströer Media Deutschland
Sector:
N/A
Notes:
PROBLEM:
Right-wing hatred has become really loud again. The vast majority, however, remains largely silent. Time to do something about it.


IDEA:
Together with Laut gegen Nazis (Loud against Nazis), we have developed a nationwide campaign that calls on the majority of people to show civil courage and creatively inspires and encourages them to speak up. Because you can only do something against racism if you speak up.


SOLUTION:
Loud against Nazis. That is the idea. With messages and headlines which are only understandable if you read/say it out loud. Against racism and for more tolerance. The large-scale integrated campaign started on 27.01.2021 - the "Day of Remembrance of the Victims of the Holocaust" - and is visible throughout Germany in print and Out of home as well as digitally as a Tik Tok Challenge, Instagram filter, as Youtube Pre-Rolls and outstream ads.