10: HEALTHCARE (PUBLIC AWARENESS)
JPG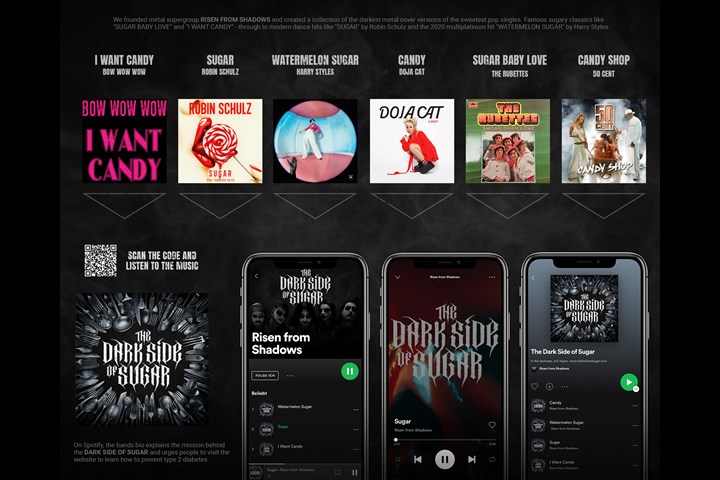 JPG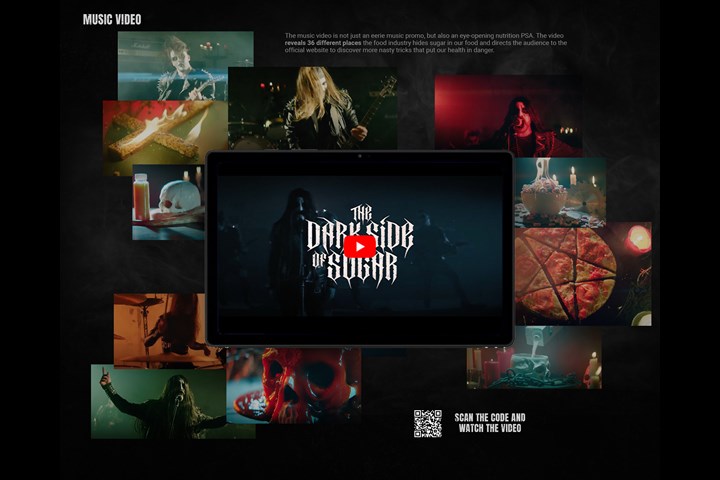 JPG
JPG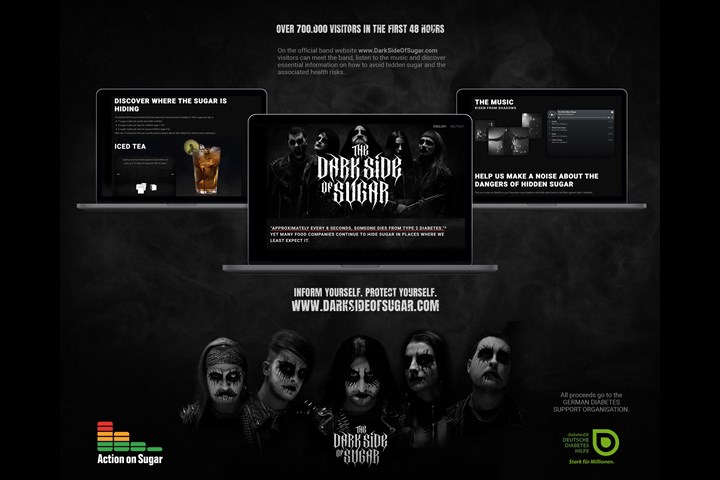 JPG
MP4 1m:59s
MP3 3m:41s
THE DARK SIDE OF SUGAR - Action on Sugar
The Dark Side of Sugar
Shortlist
Title of Entry:
THE DARK SIDE OF SUGAR
Brand:
Action on Sugar
Product/Service:
The Dark Side of Sugar
Client:
Action on Sugar
Entrant Company:
SERVICEPLAN GERMANY
Creative Team:
Global Chief Creative Officer: Alex Schill
Managing Creative Director: Myles Lord
Chief Creative Officer Germany: Matthias Harbeck
Creative Director: Matthias Harbeck
Senior Art Director: Nils Frankenbach
Copywriter: Frauke Ehlers
Account Manager: Antonia Lüttringhaus
Teamlead Social Media Management: Svetlana Herdt
Creative Media Manager: Victoria Wissmann
Managing Partner: Jochen Lenhard & Benedikt Göttert
Executive Producer: Stephan Moritz
Music Producer: Marcel Neumann
Producer: Madeliene Pfisterer & Katrin Habermann
Head of Digital: Dennis Wachter
User Experience Concept: Christin Dückerhoff
Frontend Developer: Cornelia Pelech & Jens Tangermann
Senior Art Director: Svenja Rethmeyer
User Experience Designer: Niklas Barning & Karim Buchalla
Head of System Administration: Heino Niemann
Head of Future Commerce: Andreas Precht
Senior PR & Content Consultant: Birgit Koch
International PR: Lee Sharrock
PR & Content Consult: Anna-Theresa Hubmann & Isabelle Schneider
Planer & Berater Digital Media & Creative Media Manager: Max Leipert
Consultant & Planner: Jan Stapf
Managing Director: Kevin Prösel
Photographer: Marco Justus Schöler
Executive Producer: Simon Fessler
Producer: Lukas Sterly
Director / Editor: Carlo Oppermann
DoP: Klaus Kneist
Grading: Bernie Greiner
Unit Leader: Tom Heinrich
Hair & MakeUp: Sutida Vestewig
Styling: Anh Ding
Art Department: Lara Seelig & Darina Joordanowa
Gaffer: Peter Kreil
Food Styling: Pedro Torres
Other Credits:
Film Production Company: Simon & Paul
Additional Film Production: NEVEREST GERMANY
Recording Studio: Loft Tonstudios Berlin
Sound Design/Music Company: Mokoh Music
Media Agency: MEDIAPLUS GERMANY
Digital Agency: HMMH GERMANY
Additional Digital Agency: PLAN.NET GERMANY
Sector:
N/A
Notes:
Every 8 seconds, a person dies from type 2 diabetes - yet the food industry continues to hide added sugar where we least expect it. Countries like Germany are not doing enough to keep the food industry transparent, resulting in people consuming sugar at levels way over their recommended daily allowance.

The Dark Side of Sugar is a collection of the sweetest pop hits remade as the darkest metal cover versions to shine a light on the problem of hidden sugar. The project launched with the music video for the metal remake of "SUGAR" (formerly by Robin Schulz) on World Diabetes Day, November 14th, 2020. The video is also a PSA raising awareness about type 2 diabetes. An eerie combination of evil metal cues, occult symbolism and food photography showcases 36 common places the food industry hides extra sugar in our food. The 4-minute video also lays out the amount of time it would take for a further 25 people to die from type 2 diabetes – according to current statistics. At the end of the video, viewers are urged to learn how to protect themselves from hidden sugar on www.darksideofsugar.com. As a result, the website was visited by over 700.000 people within the first 48 hours after launch.

We would like to thank our partner Shutterstock for helping us to reduce food wastage on the production of this music video.