4: AMBIENT & EXPERIENTIAL (Experiential)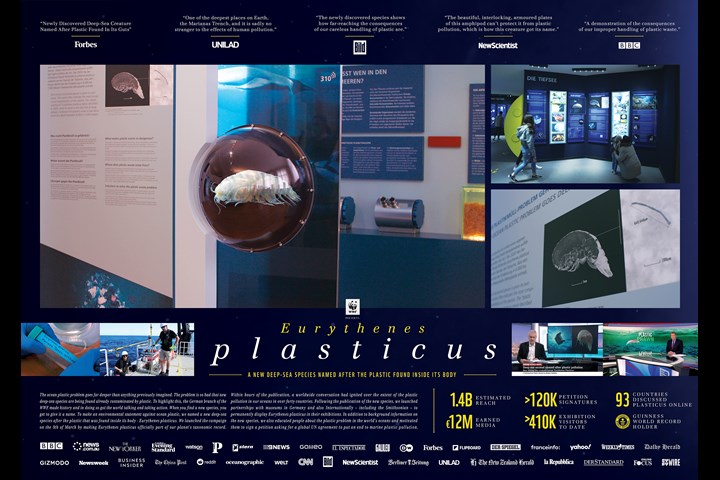 JPG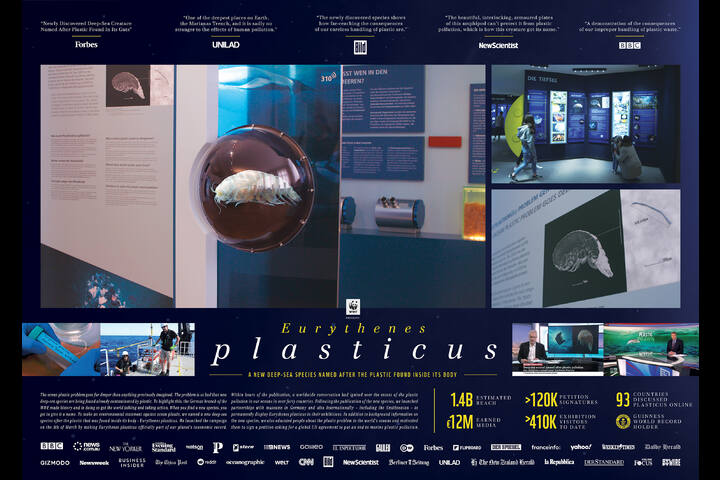 MP4 2m:05s
Eurythenes plasticus - WWF Germany
A new species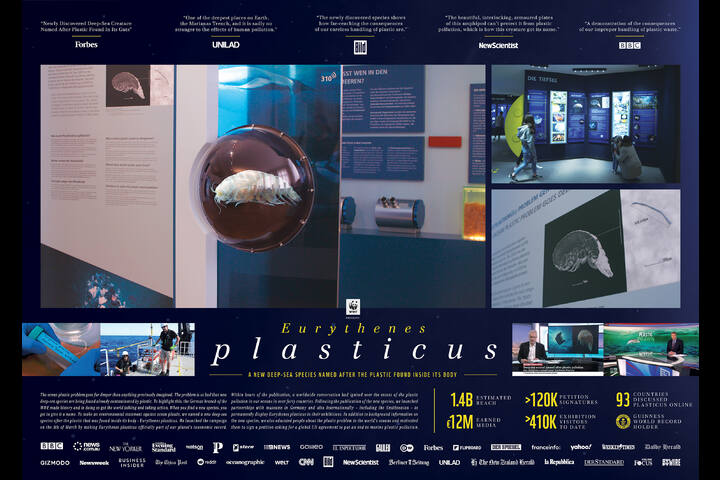 Silver
Title of Entry:
Eurythenes plasticus
Brand:
WWF Germany
Product/Service:
A new species
Client:
WWF Germany
Entrant Company:
BBDO Group Germany GmbH
Creative Team:
Chief Creative Officer: Till Diestel
Creative Managing Director: Kristoffer Heilemann
Executive Creative Director/Script: Andy Wyeth
Art Director: Bernd Rose
Art Director: Marco Serra
Art Director: Rosario Brancato
Copywriter: Christian Korntheuer
Copywriter: Marcos Alves
Creative Technologist: Martin Boeing-Messing

Entry Notes:
For cat. 4 / Ambient & Experiential / Experiential /Public Interest or Charity
Other Credits:
Client: Hanna Eberhard
Client: Theresa Reis
Planning Director: Benjamin Pleissner
Strategic Planner: Kyle Duckitt
Production Director/Producer: Kat Wyeth
Production Company: Sehsucht GmbH
Creative Support: Hans-Christoph Schultheiss (Sehsucht GmbH)
Producer: Stephanie Huelsmann (Sehsucht GmbH)
Chief Production Officer: Steffen Gentis
Post-Production Company: CraftWork – a brand of ad agencyservices GmbH
Music/Sound Design/Composer: Alex Komlew
Audio Production House: Studio Funk GmbH & Co. KG
Sound Engineer: Arne Schultze
Director: Hans-Christoph Schultheiss
Director Of Photography: Niklas Lemburg, Alexander Link
Editor: Juhn Kim
Animation: Juan Pablo Brockhaus, Lucas Wendler (Sehsucht GmbH)
Retoucher: pretty on point
Scientist/Voice Over: Dr. Alan Jamieson (Newcastle University)
Scientist: Johanna Weston (Newcastle University)
Media Agency: Hearts & Science Germany GmbH
Media Agency: OMG FUSE
Influencer Agency: Intermate Media GmbH
Social Media: Facebook Germany GmbH
PR Agency: Wildstyle Network GmbH
Sector:
03: PUBLIC INTEREST OR CHARITY
Notes:
Germans are some of the best sorters of rubbish in the world, but well under 30% of our plastic is recycled. Rather than dealing with our own trash, Germany is the third biggest exporter of plastic waste (behind the USA and Japan) to countries in South East Asia. The ocean plastic problem goes far deeper than anything previously imagined. The problem is so bad that new deep-sea species are being found already contaminated by plastic.

When you find a new species you get to give it a name. To highlight that our ocean plastic problem goes deep, we named a new deep-sea species after the plastic found inside its body - Eurythenes plasticus.

This idea is the culmination of over one and a half years of collaboration together with world renowned marine ecologist Dr Alan Jamieson from Newcastle University. We launched the campaign on the 5th of March by making Eurythenes plasticus officially part of our planet's taxonomic record. Within hours of the publication, a worldwide conversation had ignited over the extent of the plastic pollution in our oceans in over forty countries. Following the publication of the new species, we launched partnerships with museums in Germany and also Internationally – including the Smithsonian – to permanently display Eurythenes plasticus in their exhibitions. In addition to background information on the new species, we also educated people about the plastic problem in the world's oceans and motivated them to sign a petition asking for a global UN agreement to put an end to marine plastic pollution.