22: THE 'WISH WE'D THOUGHT OF THAT' AWARD (THE 'WISH WE'D THOUGHT OF THAT' AWARD)
JPG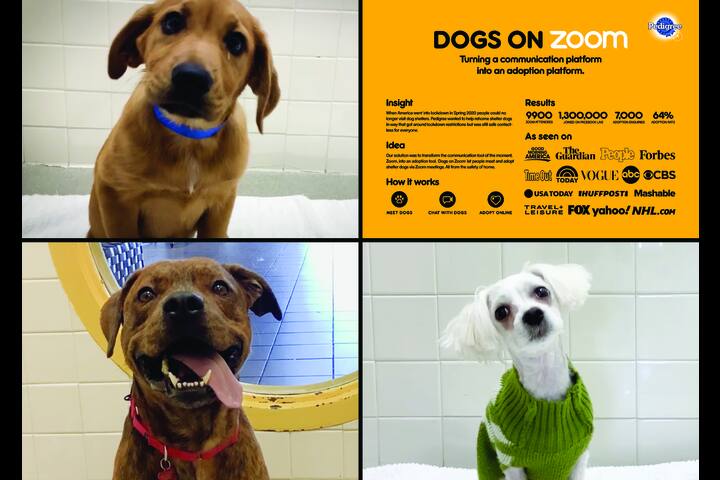 MP4 1m:58s
Dogs on Zoom - Pedigree
Pedigree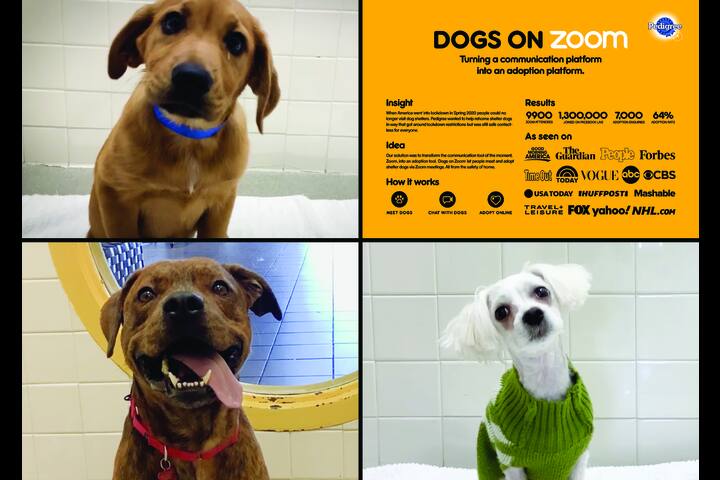 Shortlist
Title of Entry:
Dogs on Zoom
Brand:
Pedigree
Product/Service:
Pedigree
Client:
Pedigree
Entrant Company:
BBDO New York
Creative Team:
Creative Agency: BBDO, New York
Chief Creative Officer, Worldwide: David Lubars
Chief Creative Officer New York: Greg Hahn
Execuitve Creative Director: Peter Kain
Execuitve Creative Director: Gianfranco Arena
Creative Director: Damjan Pita
Creative Director: Jim Connolly
Art Director: Bhanu Arbuaratna
EVP, Director of Integrated Production: David Rolfe
Exec Producer: Amy Wertheimer
Producer: Caroline Deason
Interactive Executive Producer: Katie Young
Interactive Producer: Chava Quinn
Snr Account Director: Sally Nathans
Account Director: Elizabeth Maini
Account Manager: Isabel Pluck
Account Executive: Chelsea Berk
Group Planning Director: Annemarie Norris
Planning Director: Karin Santiago
Comms Planning Director: Brian Brydon
Planner: Jaime Chou


Production Company: BBDO Studios
Director: Brody Bernheisel
Executive Producer: André Rowe Jr
Studio Producer: Luke Butler
Studio Producer: Jonathan Hsu
Production Coordinator: Emiko Alexejew

Editorial Company: BBDO Studios
Editor: Brad Go

Media Agency: MediaCom

PR Agency: WeberShandwick, Barefoot Proximity

Sector:
N/A
Notes:
"Dogs on Zoom" was a virtual adoption program that allowed people to meet and adopt dogs from the safety of their homes. Pedigree transformed the video meeting platform, Zoom, into an adoption platform by hosting a series of virtual adoption events with 9 dog shelters across the US. People could view the shelter's available dogs in the Zoom meeting and ask live questions or request an adoption form via the chat feature. By letting people meet the dogs directly on Zoom, we recreated the rewarding experience of visiting a dog shelter virtually and got around the lockdown restrictions of in person adoption. The Zoom meetings were also streamed on Facebook Live on Pedigree's Facebook page to reach a wider audience. Dogs on Zoom was an innovative solution that exposed shelter dogs to a large audience of dog lovers – much more than the usual foot traffic a shelter would see pre-Covid.