13: CREATIVE TECHNOLOGY (USE OF AI)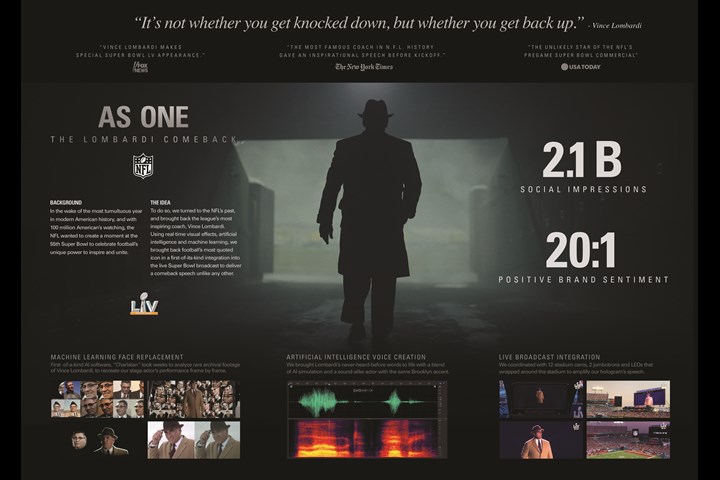 JPG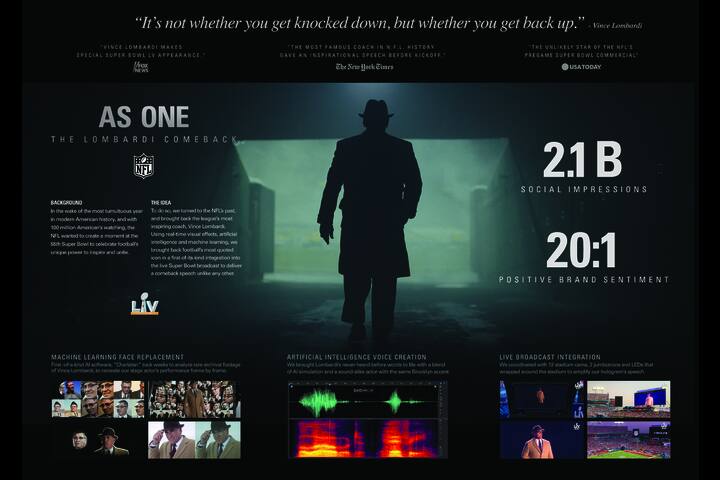 MP4 2m:10s
As One: The Lombardi Comeback - National Football League
National Football League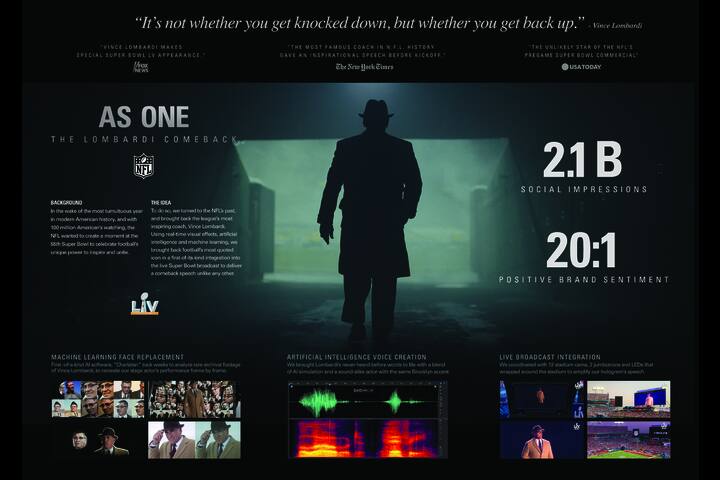 Silver
Title of Entry:
As One: The Lombardi Comeback
Brand:
National Football League
Product/Service:
National Football League
Client:
National Football League
Entrant Company:
72andSunny Los Angeles
Creative Team:
Partner/Creative Co-Chair: Glenn Cole
Executive Creative Director: Bryan Rowles
Group Creative Director: Zach Hilder
Creative Director: Geno Burmester
Creative Director: Peter Hughes
Group Production Director: Nicole Haase
Jr Film Producer: Tanya Zaccaro
Group Brand Director: Simon Hall
Brand Director: Katie Martin
Group Strategy Director: Michael Lewis
Strategy Director: Kristin Barker
Partnerships and Legal Director: LaTanya Ware
Jr Partnerships and Legal Manager: Marty Cole

Other Credits:
Client, NFL Team:
Chief Marketing Officer: Tim Ellis
SVP Global Brand & Consumer Marketing: Julie Haddon
Senior Producer: Lucy Hallowell
Director, Global Brand & Consumer Marketing: Erin Littrell
Global Brand & Consumer Marketing: Jackie Finn

Production Team:
Company: Prettybird
Director: Max Malkin
Director of Photography: Max Malkin
CEO: Kerstin Emhoff
President: Ali Brown
Line Producer: Matt Wersinger
Production Designer: Christian Kastner


Editorial Team:
Company: WORK Editorial
Editor: Biff Butler
Asst Editor: Gladys Bernadac
Producer: Brandee Probasco
Executive Producer: Marlo Baird

Post Co:
Company: Digital Domain
John Fragomeni | President
Kevin Lau | Executive Creative Director
John Canning | Executive Producer, New Media
Nicole Fina | Executive Producer, Advertising & Games


Alexandra Michael | Sr Producer
Dan Bartolucci | VFX Supervisor

Telecine:
Company: Co3
Colorist: Stefan Sonnenfeld
Producer, Color: Blake Rice

Audio Mix + Sound Design:
LIME Studios
Sound Mixer: Jeff Malen
Assistant Engineer: Meg Ochs
Executive Producer: Susie Boyajan
Associate Producer: Samantha Sotomura
Sound Designer: Michael Anastasi
SD Assistant Engineer: Kai Paquin

Voice Conversion Services
RESPEECHER

Sound team:
Anton Prykhodko
Bogdan Belyaev

AI engineering team:
Denis Shirman
Ivan Shkurak
Alex Khapilin
Volodymyr Sydorskyi

Support team:
Dmytro Bielievtsov
Grant Reaber
Vitalii Knyr
Rostyslav Fedorchenko
Vitalii Marchenko
Svitlana Faryna
Oleksandr Ponomarov
Stanislav Rybak
Alex Serdiuk


Music: Master: "Journey to the Line"
Composer: Hans Zimmer
Publisher: TCF Music Publishing (ASCAP)

VO Casting: Sound and Fury


Sector:
N/A
Notes:
Even though 2020 was an unpredictable year, football was the one constant Americans could count on for inspiration and entertainment. We saw an opportunity to use the NFL's biggest stage, Super Bowl LV, to reaffirm football's power to bring people together and pave a way forward, no matter the obstacle.

To inspire the greatest comeback of the nation, we brought back the NFL's most iconic, and inspirational figures: Coach Vince Lombardi. Not only is he the namesake of the Super Bowl trophy, but he was a pioneer in advocating for racial equality and social justice.

Using machine learning and AI voice creation technology, we brought back Lombardi for an unforgettable speech to the nation at the Super Bowl. Viewers saw him walking American streets of the nation, places affected by the forces of last year, reminding the nation that it's "Not whether we get knocked down, but whether we get back up. As One." The film transitioned to a LIVE broadcast where Lombardi delivered the final words of his speech via hologram technology to fans at Raymond James stadium and to fans watching at home.

Lombardi's comeback infiltrated culture and generated massive conversation throughout the Super Bowl with talk focused on the coach's historic return. The moment generated +2.1 billion social media impressions with fans reacting to the commercial, +2 million online video views across all major social platforms, and a 20:1 positive sentiment on YouTube. The press response was also positive, ranking Top 20 on AdMeter with a 6 Star average and securing a Top 5 spot on the Most Inspirational list of commercials. And most importantly, the speech created a moment to fuel resilience in all of us, with 70% of people agreeing the ad unified and brought people together and 66% of people agreeing the ad made them feel optimistic for the future.