14: DIGITAL DESIGN (OOH DIGITAL INSTALLATIONS)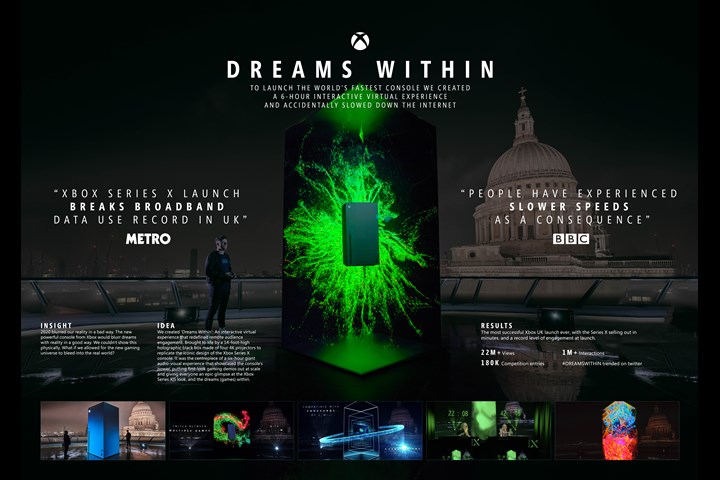 JPG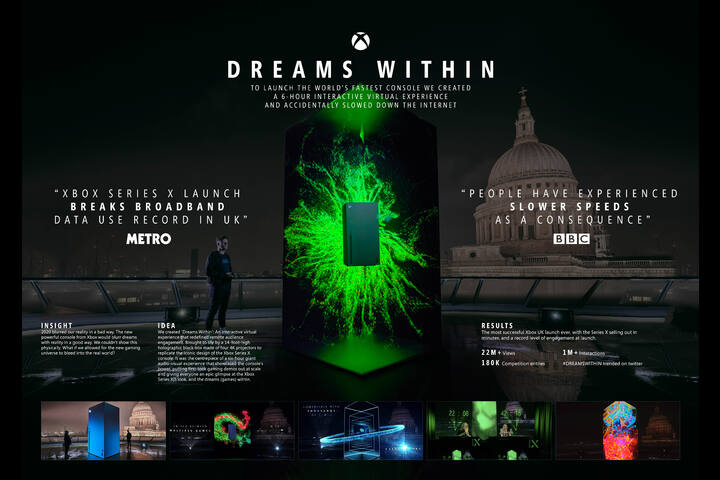 MP4 1m:45s
Xbox - Dreams Within - Xbox
Xbox Series X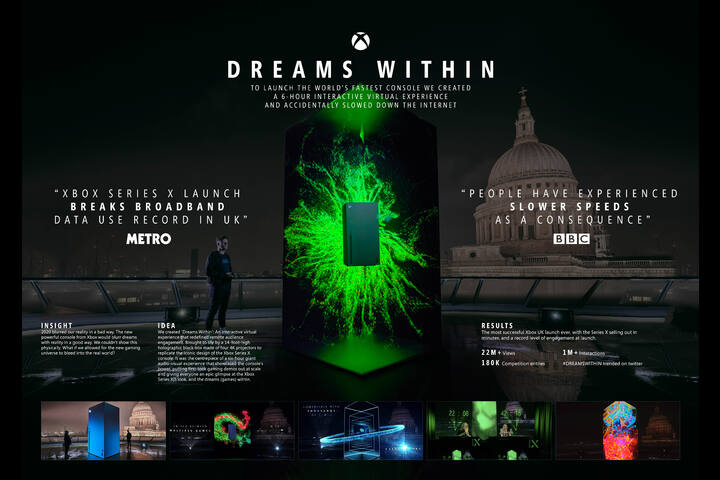 Silver
Title of Entry:
Xbox - Dreams Within
Brand:
Xbox
Product/Service:
Xbox Series X
Client:
Xbox (Microsoft)
Entrant Company:
Edelman UK & Ireland
Creative Team:
Agency: Edelman / Assembly Media Inc
Client Lead: James Donovan
Creative Director: Jamie Cordwell
Agency Production: Greg Hemes

Art Director: Juan Posada
Copywriter: Sean Cullivan
Social Leads: Adam Jenkins & Amy Dyson
Comms Lead: Will Beckett
Editor: Alasdair Gray

Xbox
Marketing Lead: Sam Bateman
Console Lead: Trista Szocs
Comms Lead: Paul Almond

Other Credits:
Production Team
Production Company: UNIT9
UNIT9 Group
155 Farringdon Road
London, EC1R 3AD
+44 207 613 3330

Creative Director - Sean Pruen
Executive Producer - Izzy Kertland
Technical Executive Producer - Mark Logue
Senior Producer - Amanda Boyd
Business Director - James Murray

1st AD - James Dyer
DOP - Simon Elsbury

Projection Mapping: Bluman Associates
Bluman Associates,
Unit 1, The Corner Building,
Old Dairy Court, 17 Crouch Hill,
London, N4 4AP
020 8368 7766

Development: Stout Studio
Unit 1, The Corner Building Old Dairy Court, 17 Crouch Hill, London, England, N4 4AP

Animation: 23rdC
Unit 423 – Metal Box Factory
30 Great Guildford St
London
SE1 0HS


Filming and video: Flashlight TV
Flashlight Television Ltd
Studio 6
65-69 County Street
London
SE1 4AD

Set Build: True Staging
Radford Business Centre, Radford Way, Billericay, CM12 0BZ


Music and Sound Design:
Wave Studios
32 Great Pulteney St, Soho, London W1F 9NW
Sound Engineer – Ed Downham
Producer – Rebecca Boswell

Music
Record label: Decca Music Group
Music Supervisor: Sarah Giles
Track: Alex Somers 'Deathbed (Phoenician Order Remix)' + 'Deathbed (Phoenician Order Remix) Bronze Version'
Extended Music: Gwilym Gold at Bronze AI

Sector:
N/A
Notes:
CONTEXT:
After a 7-year silence in the region, Xbox were finally ready to launch their powerful Xbox Series X|S and a package of games with it. Along with this, their parent company, Microsoft, was launching Game Pass - a subscription service that ties together console and PC offerings with added mobile game streaming capability. This service brought a new consumer-friendly approach, with a low price point.

Xbox tasked Assembly with delivering the Xbox Series X|S launch, which would involve communicating the accessibility, innovation and excitement that the console, games, subscription service and mobile streaming would bring. A complicated ask, especially considering Xbox's diminished status in market.

On top of this, traditionally successful methods of launching, in particular large-scale live events and product demos, for the media and gamers alike, were understandably out of the question in 2020.

That being said, the demand for gaming has massively increased in the global lockdown, and with new audiences came uncertainty and opportunity in equal measure. How could Xbox and parent company Microsoft re-establish themselves cut through and show themselves as market leaders in this unpredictable lockdown market?

OBJECTIVES:
Xbox's ask boiled down to two key objectives:
• Execute a unique, multi-faceted product launch and comms strategy that would deviate from the norm and make Xbox stand out to new audiences and the media.
• Engage and excite a core audience with a spectacular launch moment, with the normal rule book thrown out the window.

INSIGHT:
With a wealth of experience in the games sector, we knew that a long-term approach was needed in order to land the best of feature stories across multiple audiences. Businesses, consumers, tech media and enthusiast gamers, as well as key content creators, wouldn't respond well to one off press releases. It was vital that we educated consumers gradually about the Xbox Series X|S key differentiators and built relationships.

From prior experience we also knew that analysts, regularly called in at launch to provide points of view across a variety of media outlets, would be relied upon heavily too, so educating them even ahead of everyone else and incorporating them into our core strategy was a must.

We also knew that the best way of communicating the strength of games products was by letting users experience them - with this not being an option, we needed an impressive platform to showcase the key games content and power and USPs of the Xbox Series X. From this platform, we would use advocates and content creators to engage a core audience remotely, allowing them to evangelise it to a broader consumer base on our behalf.

Introducing, "Dreams Within" – an audio-visual showstopper installation, 14ft high and featuring four 4K projectors replicating the iconic design of the console, that could showcase the console's power from a distance. This fell within the global Xbox Series X tagline of "Power Your Dreams" and would be the centrepiece for a livestream that drew upon our extensive experience working with owned Xbox content channel Xbox On, which delivers regular streams that connect with the core audience.