5: SOCIAL (BEST USE OF TWITTER)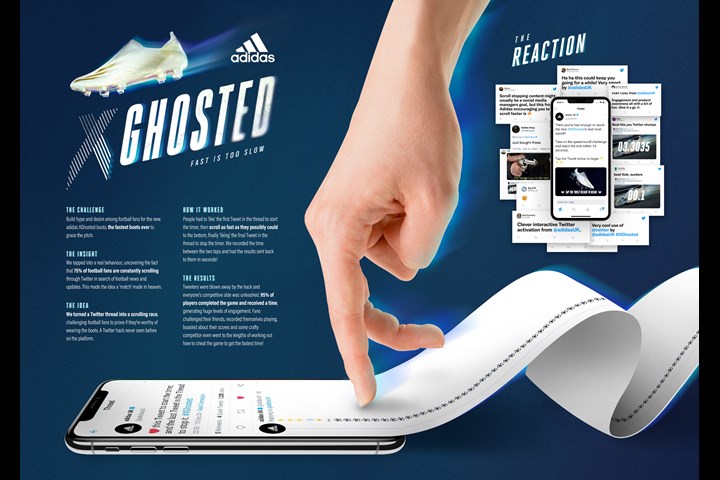 JPG
#GhostSpeedChallenge - adidas
Football Boots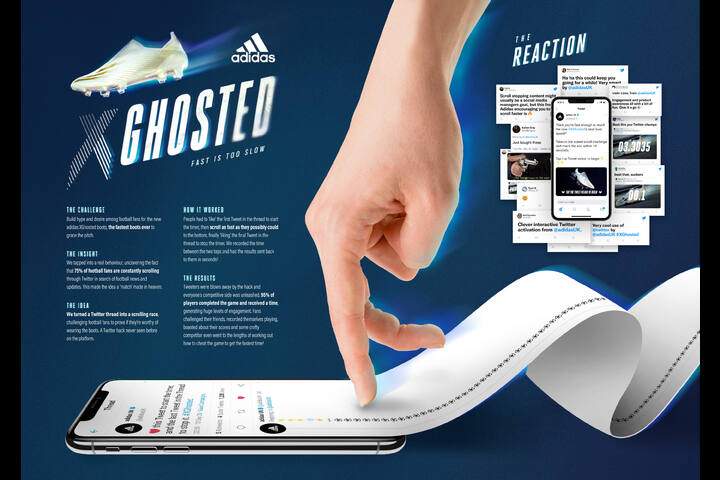 Shortlist
Title of Entry:
#GhostSpeedChallenge
Brand:
adidas
Product/Service:
Football Boots
Client:
adidas
Entrant Company:
Twitter UK
Creative Team:
Creative: Sean Bone
Sr Brand Strategist: Sam Waymont
Sr. Technical Program Manager: Rick Smith
Other Credits:
Brand Manager: Jack Wood
Designer: Heshani Dias
Client: Jonny Silcock
Client: Lara Bean
Sector:
01: CONSUMER PRODUCT OR SERVICE
Notes:
adidas is in competition with Nike both on and off the field. Both vying for the attention of football fans to prove their boots will make you the best player you can be.

adidas challenged Twitter to drive hype & desire for the new XGhosted football boots by positioning them as the fastest football footwear in the market.

To get football fans to truly understand that the XGhosted boots represent speed, we had to produce an idea that would go beyond passive consumption and get them talking and engaging.

We all know that football fans are incredibly competitive, always looking for the opportunity for one-upmanship. After looking in detail at the Twitter data on football fans, we discovered 75% of them are constantly scrolling through the Twitter feed during games, searching for updates and info. This led us to an idea that was a 'match' made in heaven.

Our idea was to fuel this scrolling behaviour and ignite their competitive spirit. We turned a Twitter Thread (a series of connected Tweets) into a scrolling race, challenging footie fans to prove they're worthy of wearing the fastest boots ever to grace the pitch. This was a bespoke hack of Twitter that had never been done on the platform before.

By 'liking' the first Tweet in the thread, players started a virtual timer. They then scrolled as fast as they possibly could to the bottom, finally 'liking' the final Tweet in the thread to stop the timer. Their result was automatically sent back in seconds, as we revealed if they reached XGhosted speed.

Tweeters were blown away by the hack and football fans' competitive side was unleashed. 95% of players completed the game and received a time, an incredibly successful conversion rate generating huge levels of engagement.

Fans challenged their friends, recorded themselves playing, boasted about their scores and some crafty competitor even went to the lengths of working out how to cheat the game to get the fastest time of 00:01! Now that's next level speed.