5: SOCIAL (INNOVATIVE USE OF SOCIAL MEDIA)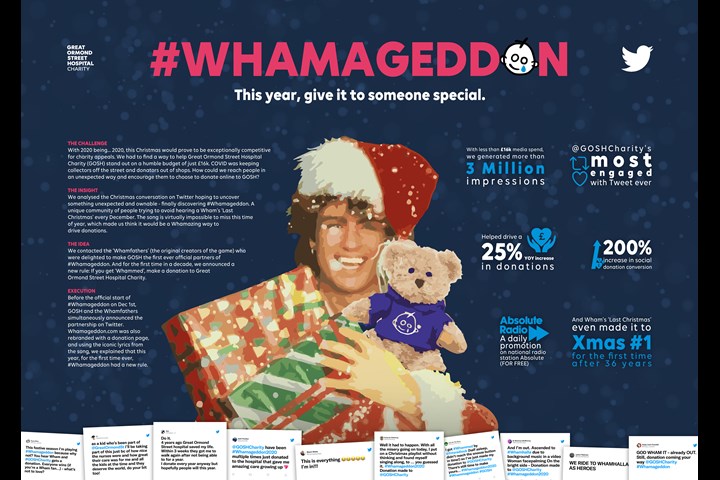 JPG
MP4 2m:00s
#Whamageddon - Great Ormond Street Hospital Charity
Children's Hospital
Bronze
Title of Entry:
#Whamageddon
Brand:
Great Ormond Street Hospital Charity
Product/Service:
Children's Hospital
Client:
Great Ormond Street Hospital Charity
Entrant Company:
Twitter UK
Creative Team:
Creative: Sean Bone
Sr Brand Strategist: Sam Waymont
Other Credits:
Designer: Heshani Dias
Account Manager: Rob Williamson
Client: Katrina Cimetta
Client: Stephanie Parrott
Sector:
03: PUBLIC INTEREST OR CHARITY
Notes:
Great Ormond Street Hospital Charity helps children battle complex illnesses and rely on donations to fund their important work.

In 2020 their annual Christmas fundraising campaign was made even more difficult as volunteers were unable to collect donations on Britain's streets, in hospitals or at train stations.

GOSH came to us with a shoestring budget of less than £16k (of which £10k was provided by Twitter as part of a not for profit bonus), but a big ambition to reach a new audience of donors. We needed an idea that would make them stand out amongst the thousands of other charity appeals during a uniquely competitive Christmas year.

Ultimately, our goal was to raise awareness of GOSH and drive online donations.

We analysed the Christmas social conversation in detail, hoping to uncover something unexpected and ownable - finally discovering #Whamageddon. A unique community of people on Twitter trying to avoid hearing a song in December, growing in popularity every year but still yet untouched by any brand. Not only was the conversation happening on Twitter, but with a limited budget, we knew the platform's sharing functionality would help us maximise the spend through earned media.

#Whamageddon was just the unconventional social behaviour we were hoping to uncover. The aim is to go as long as possible without hearing Wham's iconic song 'Last Christmas' before midnight on December 24th. The song is virtually impossible to avoid this time of year, which made us think it would be a Whamazing way to drive donations. Instead of pulling on the heartstrings, we could spread some much needed joy.

With our target audience being parents who could relate to the charity's work with children, #Whamaggedon perfectly tapped into their nostalgia of the 80's when 'Last Christmas' was a hit.

For collaboration and credibility, we reached out to the original creators of the game to make a joint announcement of the first ever #Whamageddon brand partnership.

Before the official start of #Whamageddon on December 1st, GOSH and the Whamfathers simultaneously announced the partnership on Twitter - authenticating the announcement as we went on to take the underground social game into the mainstream.

We targeted previous players of the game as well as our audience of parents, while whamageddon.com was also rebranded with a donation page.

Using the iconic lyrics from the song, we explained that this year, for the first time ever, #Whamageddon had a new rule: If you hear 'Last Christmas', donate to GOSH and declare your donation on Twitter.

The #Whamageddon community instantly embraced the partnership, hailing it as a brilliant way to make the game more worthwhile playing this year.

Throughout December, influencers and previous patients of the hospital helped spread the word as a community management masterclass engaged the daily hoard of 'Whammed' people, to generate widespread reach - resulting in national radio station Absolute making GOSH the unofficial sponsor of its daily breakfast show.

The partnership proved to be a huge success. With less than £16k media spend we generated more than 3 million paid impressions across Twitter. Even during a pandemic, the song was impossible to avoid.

- The partnership announcement was @GOSHCharity's most engaged with Tweet of all time.

- They saw a 200% increase in social donation conversion rates.

- We helped drive a 25% YOY increase in donations, generating many new donors for the charity.

- Dave Berry contacted GOSH via Twitter and made them the unofficial sponsor of his breakfast show on Absolute Radio (a station with a listenership of 4.7m people), with a daily segment dedicated to #Whamageddon (ALL FOR FREE!)

- And to top it all off, Wham's 'Last Christmas' even made it to Xmas No.1 for the first time after it's original release back in 1984.

The #Whamageddon campaign over performed and far exceeded expectations. It was the most successful Twitter campaign in the charity's history.

The unexpected and successful use of Twitter, which led to a daily promotion on a national radio station, opened up and raised awareness of GOSH to groups of people we had never intended or thought possible to reach on such a limited budget. Generating many completely new donors for the charity.

At a time when the NHS was at the frontline of a pandemic, and the public in lockdown, we were able to not only spread some joy, raise money and increase awareness, but created a lifetime connection to a social media tradition that will continue to increase in popularity.

#Whamageddon is not just an idea for Christmas, it has a life far beyond. It's a fundraising campaign that will keep on giving every Christmas. Year, after year, after year.