17: PRINT CRAFT (OUTSTANDING COPYWRITING)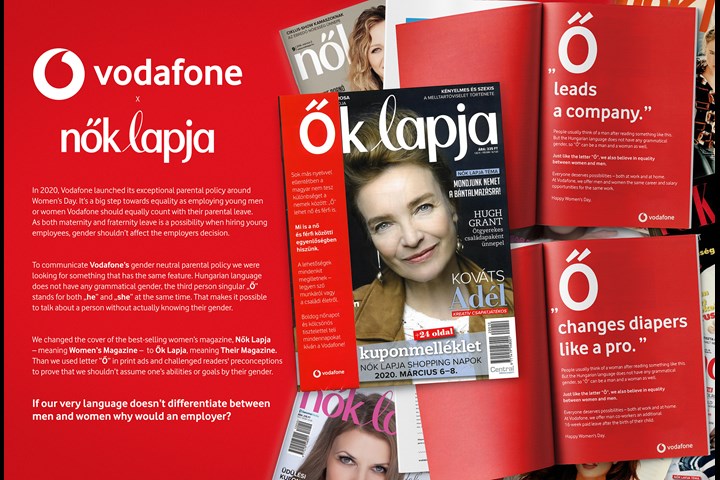 JPG
The power of 'Ő' - Vodafone
Telecommunication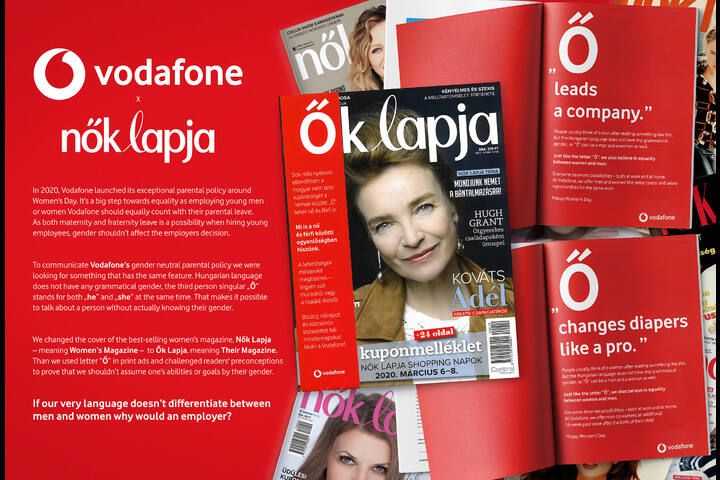 Shortlist
Title of Entry:
The power of 'Ő'
Brand:
Vodafone
Product/Service:
Telecommunication
Client:
Vodafone Hungary
Entrant Company:
ACG Budapest
Creative Team:
Creative Director: László Nagy
Strategic Planner: Eszter Domonkos
Copywriter: Szofi Oláh
Art Director: Gergely Nagy
Other Credits:
Client: János Suba
Head of PR: Kinga Kenyhercz
Senior PR manager: Fanni Ament-Tóth
Junior PR manager: Soma Reisz
Head of Studio: Mihály Harazin
Graphic Designer: Máté Szabó
Sector:
N/A
Notes:
We executed a special media hack by changing the front cover of one of the biggest Hungarian weekly magazines Nők Lapja (Women's Magazine) for the first time in it's history.
By using a traditional media in an unusual way we could draw attention to Vodafone's newly launched parental policy.

Since the Hungarian language does not have any grammatical gender, the third person singular "Ő" stands for both the English "he" and "she" at the same time. That makes it possible to talk about a person's achievement without actually knowing their gender. But unfortunately our brain works differently. When it comes to an achievement we tend to link it to a specific gender unintentionally
We used the letter "Ő" as a catalyzer of the whole campaign and challenged all the gender stereotypes that Hungarians generally knew.