24: THE MEDIA MAGIC AWARD (THE MEDIA MAGIC AWARD)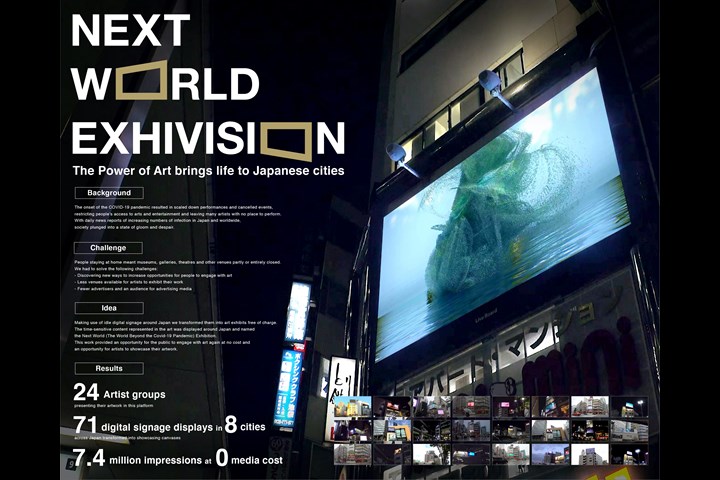 JPG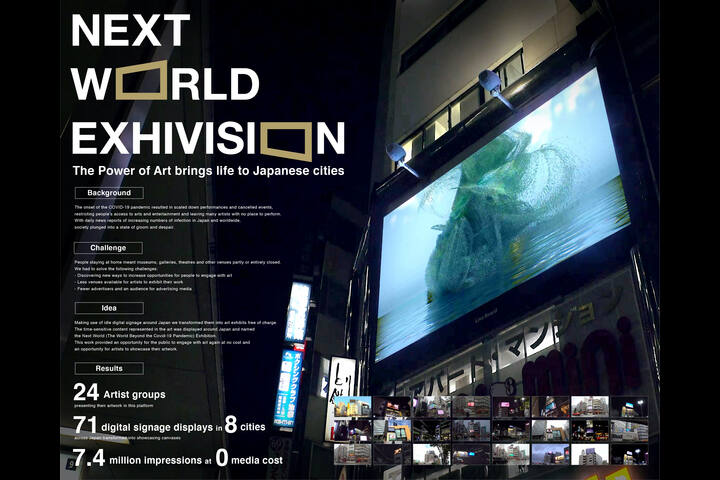 MP4 1m:53s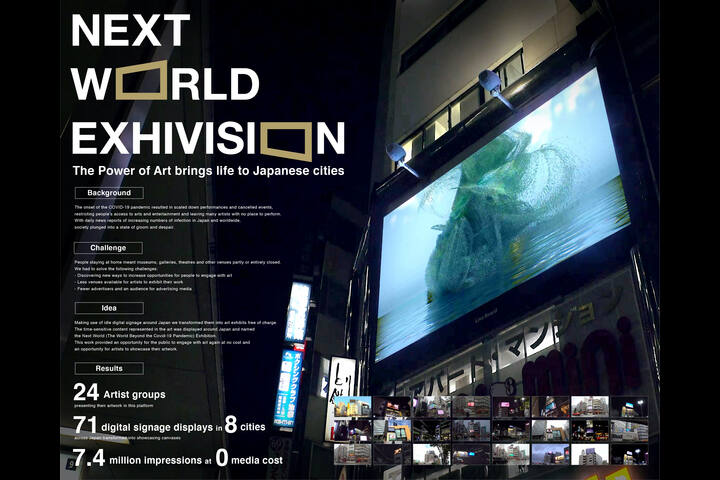 PDF
Next World ExhiVision - Japan Media Arts Festival
Japan Media Arts Festival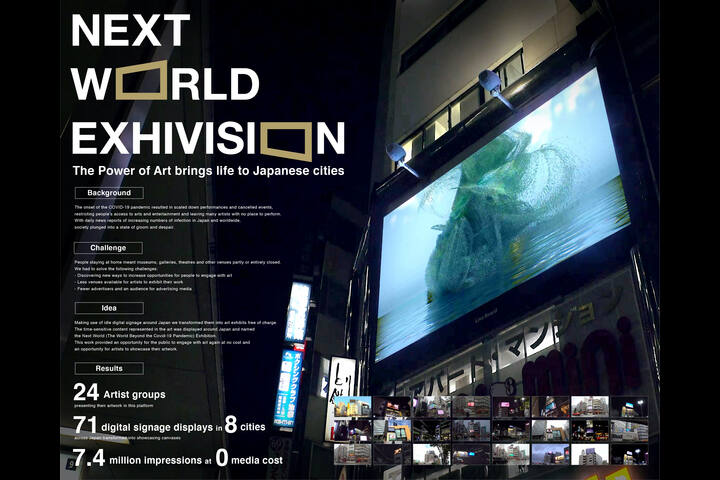 Shortlist
Title of Entry:
Next World ExhiVision
Brand:
Japan Media Arts Festival
Product/Service:
Japan Media Arts Festival
Client:
Japan Agency For Cultural Affairs
Entrant Company:
Dentsu Isobar
Creative Team:
Producer / Planner / Director: Ken-ichi Kawamura
Creative Director / Art Director / Copywriter: Shoji Taniguchi
Creative Director: Junichi Takekawa
Artist Curator: Ryuta Aoki
Sector:
N/A
Notes:
Due to the COVID-19 Pandemic, many events were shut down, shows scaled down, Leaving artist with no place to perform.
People's access to art and entertainment drastically decreased.
With the news everyday reporting the recent rates of infections in Japan and the whole world, society plunged into a state of despair.
In the middle of it all, an idea was born.
What if we use digital signage as a canvas to spread the beauty of art throughout Japanese cities, wouldn't that brighten up the country?
That idea came to life as a collaboration project with Japan's largest art festival, Japan Media Arts Festival.
In contingency with the festival, we launched the Next World ExhiVision, a showcase to experience art in 8 cities, and 71 digital signage locations from Tokyo to Hokkaido.
Curated by Dentsu Isobar, Junichi Takekawa from david watts, and Ryuta Aoki, a total of 24 artists participated in the project.
By counting 1 view every 15seconds, the estimated number of viewers surpassed 7.4 million.
The same medium that normally displays advertising in the city was transformed to a beautiful canvas of art showcasing the craft of the next generation of artists.
We believe in the power of art, to uplift human spirits, and create a brighter world.
The ambition of Next World ExhiVision will continue to the future.