5: SOCIAL (BEST USE OF FACEBOOK)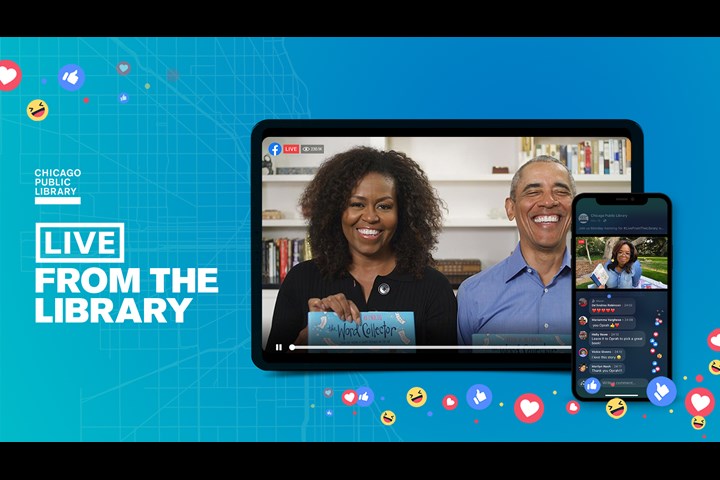 JPG
MP4 2m:07s
Live from the Library - Chicago Public Library
Chicago Public Library
Silver
Title of Entry:
Live from the Library
Brand:
Chicago Public Library
Product/Service:
Chicago Public Library
Client:
Chicago Public Library
Entrant Company:
FCB Chicago
Creative Team:
Chief Creative Officer: Andres Ordonez
Group Creative Director: Amy Ditchman
VP, Creative Director: Alison Hammer
Sr. Art Director: Sarah Hollis
Sr. Copywriter: Jake Roland
Art Director: Mckenzie Moore
Other Credits:
VP, Management Director: Bianca Marcus
Account Executive: Mackinsey Caudle
VP, Management Director: Brooke Ward

VP, Group Strategy Director: Emily Jelsomeno
Director, Social Media: Kathleen Bokar

Technical Lead: John Skibicki

Global Chief Comms Officer: Brandon Cooke
Communications Manager: Shelly Yusko

Executive Creative Producer: John Bleeden
Producer: Carolina Velez
Editor: McKenzie Moore
Executive Producer, L+T: Celena Mossell
Audio, L+T: Alec Chojnacki
Motions Design L+T: Mike Czerniuk
Sector:
03: PUBLIC INTEREST OR CHARITY
Notes:
One of the main issues affecting literacy in the United States is the lack of access to books. When schools and libraries were forced to close due to COVID-19, access became even harder for the children of Chicago.

The Chicago Public Library has always been committed to providing equal access to the world's ideas—so we weren't going to let closed doors keep us from bringing books and children together.

But we had to get creative, and with the media's attention focused on the pandemic we needed buzz to stand out.

We called on some of Chicago's library-loving friends like Oprah and The Obamas to help us create breakthrough content— transforming the library's Facebook page into a platform where kids could get access to their favorite books every weekday morning.

While new stories were broadcast over Facebook Live every morning, the videos remain live on the page so parents and kids can go back to re-watch the stories they love being read by their favorite celebrities.

The agency provided a marketing toolkit to promote #LiveFromTheLibrary across the library's social platforms and email, with a big launch announcement from Chicago's Mayor Lori Lightfoot.

Not only did we provide access to books and story time for the kids who needed it most, but Live From the Library was the most successful campaign in the library's history with 520 million people reached, 2.2 million hours of stories watched and $0 spent in celebrity fees. The library saw an 800% increase in Facebook followers YOY and digital check-outs were up 30%, proving that the power of reading goes beyond the four walls of the library.