19: BRAND PURPOSE (BRAND PURPOSE)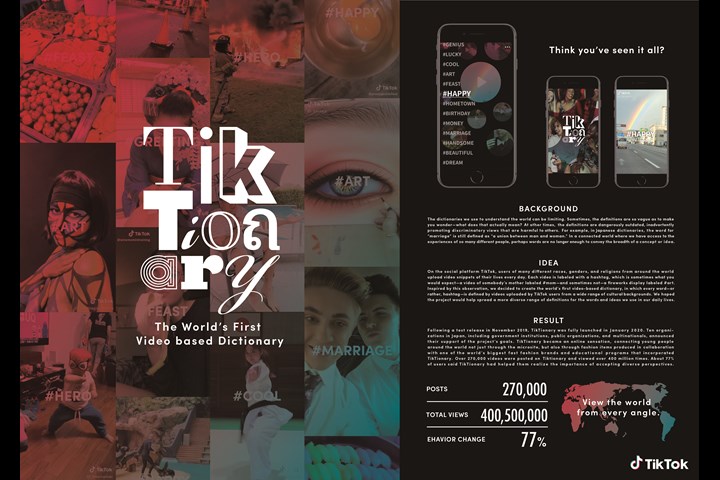 JPG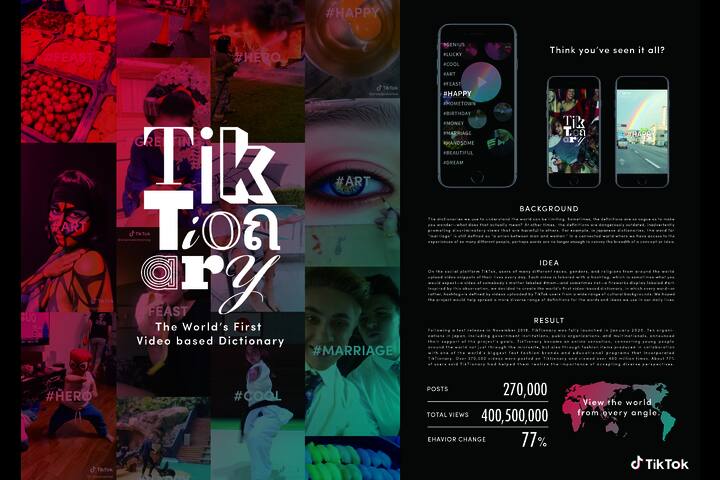 MP4 2m:00s
TikTionary - ByteDance KK
TikTok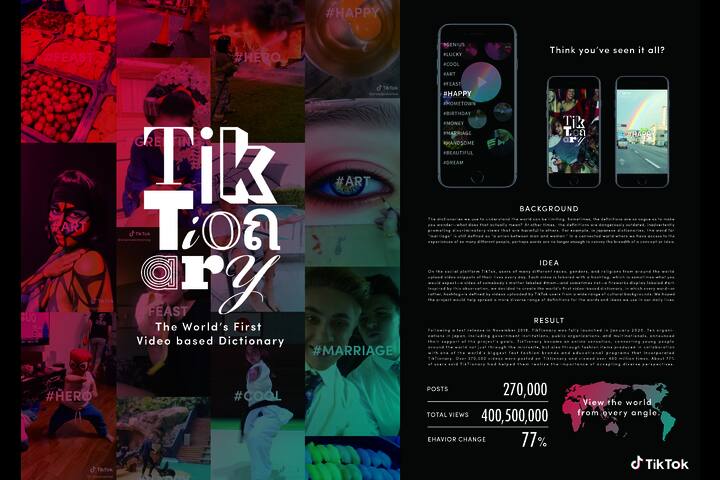 Bronze
Title of Entry:
TikTionary
Brand:
ByteDance KK
Product/Service:
TikTok
Client:
ByteDance KK
Entrant Company:
TOHOKUSHINSHA FILM CORPORATION
Creative Team:
Executive Creative Director: AKIRA SUZUKI
Executive Creative Director: YASUHARU SASAKI
Creative Director: NORIO ICHIKAWA
Creative Director: KOJIRO KIZU
Creative Producer: TAKASHI KIBE
Creative Producer: SHOTA MATSUMOTO
Head of Public Policy: TAKUYA TAMAGUCHI
Director of Communications: RYUNOSUKE GOTO
Business Producer: JING WANG
Business Producer: MASUMI OTAKI
Marketing Strategy Director: NAN GENG
Marketing Strategy Manager: XIAOBIN LIU
Marketing Strategy Manager: ASHLEY WANG
Monetize Operation Manager: MASUMI KAKIZAWA
Account Director: CHIAKI TAMURA
Advertising Operation Division Director: AYAMI WADA
Client Solution Manager: KENJI IIZUKA
Strategist: JUNTA YOSHIKAWA
Copywriter: YUKI ABE
Art Director: EMI KAMINAGA
Art Director: SHINGO FUKUSHIMA
Director: MASAYUKI KONDO
Producer: MASAO OHDE
Producer: KOSUKE HAYASHI
Producer: SHOHEI NAKAJIMA
Assistant Producer: TAKERO SAKAI
Production Manager: MEI CHIBA
Production Manager: WAKANA TAKASHIMA
English Copywriter: ZAL SETHNA
Technical Director: YOSHITAKA KAWANO
PR Director: YUYA HAMAMURA
PR Consultant: AKARI SUDA
PR Consultant: MIKA KITASHIMA
Designer: CHIULING WANG
Designer: HARUNA MASUDA
Designer: KANA MIYA
Sector:
01: CONSUMER PRODUCT OR SERVICE
Notes:
TikTionary is the world's first video-based dictionary, curated from 45,900 videos uploaded by actual users on the TikTok social media platform. Every day, users of many different races, genders, and religions from around the world upload video snippets of their lives. Each video is labeled with a hashtag, which is sometimes what you would except—a video of somebody's mother labeled #mom—and sometimes not—a fireworks display labeled #art. The idea behind TikTionary is to compile videos by word—or rather, hashtag—and demonstrate how the same word can mean so many different things based on the user's cultural and social background. We hoped the project would help spread a more diverse range of definitions for the words and ideas we use in our daily lives.
The project enjoyed the support of Japan's Ministry of Education, Culture, Sports, Science and Technology, as well as 11 companies and nonprofit organizations. TikTionary videos were viewed over
4.5 million times (includes views on TikTok). In the end, 4.9 million people learned about the project, 77% of whom said the project helped them develop a more diverse view of the world.