24: THE MEDIA MAGIC AWARD (The Media Magic Award)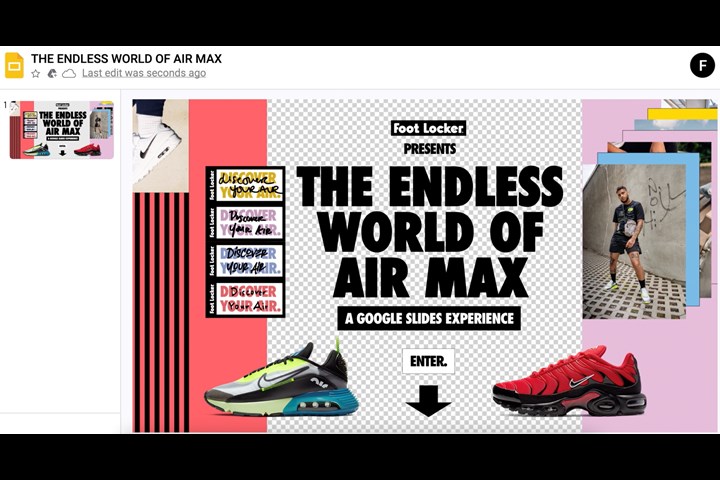 JPG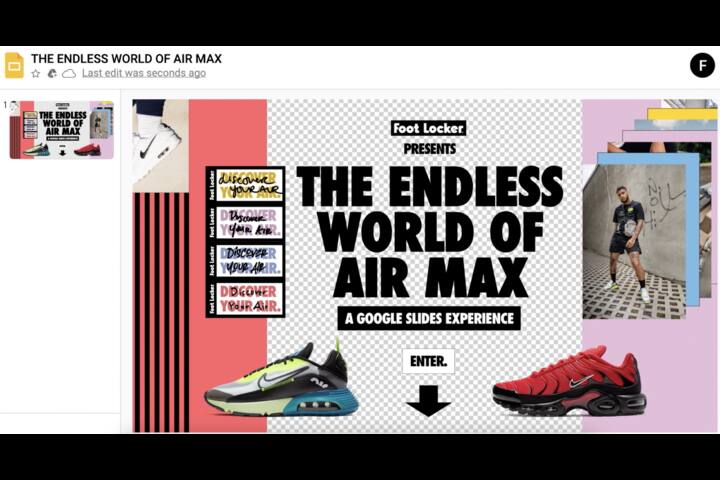 MP4 1m:49s
Endless World of Airmax - Foot Locker
Foot Locker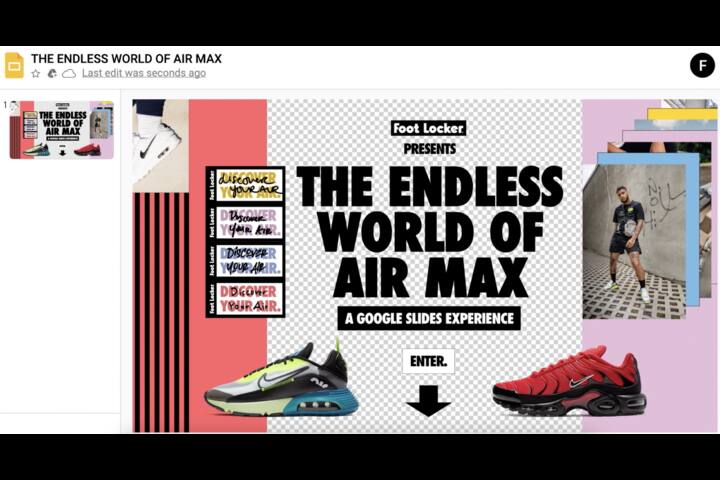 Silver
Title of Entry:
Endless World of Airmax
Brand:
Foot Locker
Product/Service:
Foot Locker
Client:
Foot Locker
Entrant Company:
BBDO New York
Creative Team:
Agency: BBDO New York
Chief Creative Officer, Worldwide: David Lubars
Executive Creative Directors: Danilo Boer & Marcos Kotlhar
Creative Director: Martins Zelcs
Senior Art Director: Sho Matsuzaki
Senior Designer: Kim Blasnik
Designer: Jay Giraldo
Art Director: Woo-Jae Yoon
Executive Producer: Andrew Osborne
Senior Producer: Mike Woodall

Project Management Director: Noreen Masih
Senior Account Director: Josh Steinman
Account Director: Janelle Van Wonderen
Account Director: Raymond Dorcely Jr.
Account Executive: Matthew Nein
Influencer Lead: Lucy Bennett
Strategy Director: Zach Kula
Senior Business Affairs Manager: Heather Weissman

Production Company: BBDO Studios
Post Lead: Allie Kolb
BBDO Studios Lead: AJ Rowe
Graphic Design: ilovedust
Editors: Alex Lubars and Brad Go
Color Correction: Dan Edwards
Sound Mix: Corey Bauman

Sector:
N/A
Notes:
To prove that we were the Air Max experts, we created The Endless World of Air Max, a sneaker culture and entertainment hub on Google Slides. Matching the constant evolution of the Air Max, the hub served as an ever-evolving platform, hosting events such as livestreamed art sessions, Air Max Trivia, an Air Max fantasy bracket, hidden prizes, and more over a 22-week period. All while updating sneaker enthusiasts on Foot Locker's available product and linking directly to e-comm. Throughout this activity, a team of 3D hand-drawn illustrators, typographers and graphic designers constantly changed the visuals within the experience in real time to keep it exciting - even for return visitors.

We drove consumers to the experience via the organic reach of Foot Locker and influencer partners social channels where credibility for sneakerhead content was highest. Earned media from tech and sneaker focused publishers further amplified the effort.