5: SOCIAL (Best use of Instagram)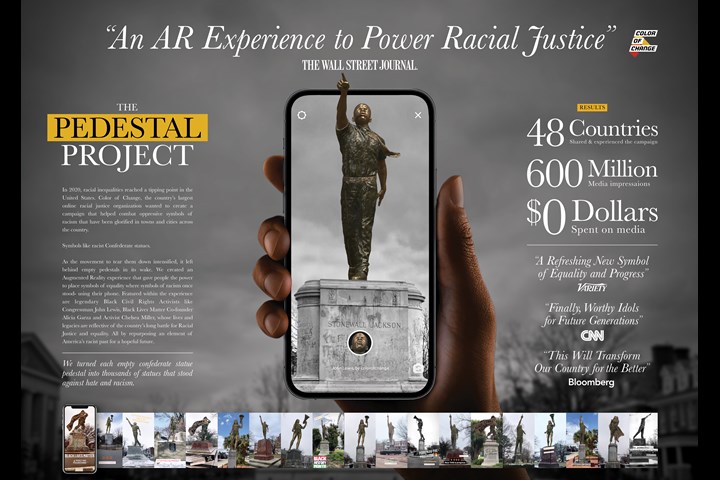 JPG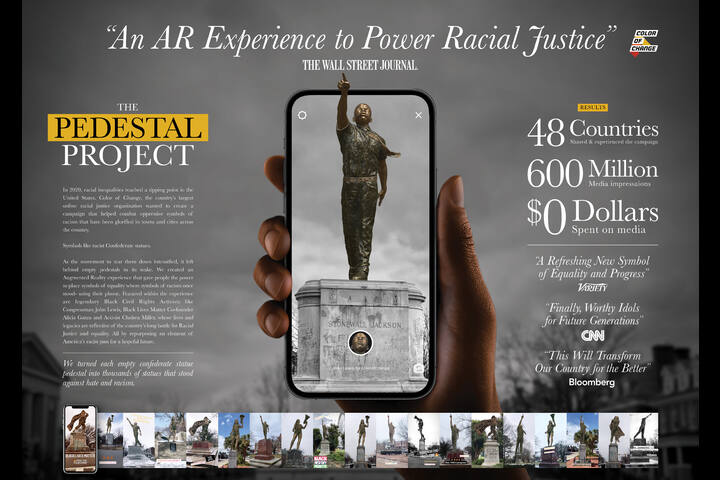 MOV 1m:41s
Pedestal Project - Color of Change
Color of Change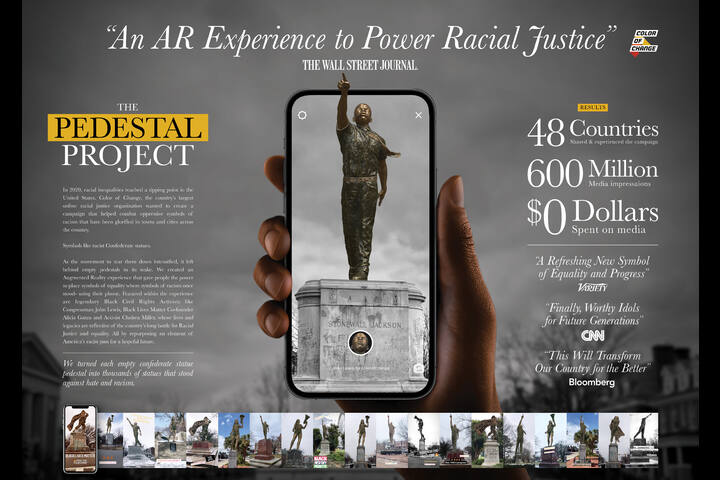 Grand Prix
Title of Entry:
Pedestal Project
Brand:
Color of Change
Product/Service:
Color of Change
Client:
Color of Change
Entrant Company:
BBDO New York
Creative Team:
Creative Agency: BBDO New York
Chief Creative Officer, Worldwide: David Lubars
Executive Creative Directors: Daniela Vojta & Susan Young
SVP Senior Creative Director: Peter Alsante
Associate Creative Directors: Anshumani Khanna & Jess Andrews
Executive Producer, Content: Jessica Coccaro
Producer, Content: Star Wingate-Bey
Senior Music Producer: Julia Millison
Music Production Intern: Katie Theobalds
Executive Producer, Digital: James Young
Producer, Digital: Philip Peker
Art Producer: Ilona Siller
Art Producer: Lizzy Lehn
Designer: Melanie Coyne
Animator: Antoine Jones
Managing Director: Steven Panariello
SVP Senior Director: Lindsey Cash
Account Manager: Dani Gredoña
Account Manager: Alexandra Castellanos
VP Strategy Director: Jen Leung
VP Communications Director: Kate Kelley
Communications Manager: Kaley Turner
SVP Production Services Director: Jessica Nugent
Business Manager: Grace Kelly

Color of Change
President: Rashad Robinson
Sr. Director of Communications: Amity Paye
Senior Communications Manager: Jocelyn Walker
Social Media & Content Manager: Nia Porter
Social Media & Content Manager: Ryan Mattimore
Social Media & Content Coordinator: Jiya Pinder
Special Projects and Partnerships Manager: Alexsys Grishaber

PR agency: H&S Communications
Co-Founder & Chief Executive Officer: Elizabeth Harrison
SVP, Brand Engagement: Veronica Rodriguez
VP, Corporate Communications: Max Buccini
Director of Lifestyle: Lauren Monroe
Director of Media Relations: Anina Bose
Director of Brand Engagement, Talent: Luis Braga
Account Supervisor, Influencer Relations: Heidi Smolevitz

Statue Sculpture Artist: Spencer Evans

Production Company 3D Statues: Happy Finish
President / COO: Toby Roberts
VP of U.S. Business Development: Joshua Parish
Producer: Nicole Fitzhugh
CG Supervisor: Matt Painter
CG Artist: Benjamin Allen
CG Artist: Flavio Novi
CG Artist: Sam Windom

Production Company: BBDO Studios
Line Producer: Jon Shu
DP: Morgan Ammons
Add'l Footage: The Syndicate
EP: Lindsey McLemore & Julia Galvin
Shooters: Veronica Proudford & Eleanor Murray-Mendelson

Editorial Company "Launch" & "How To": BBDO Studios
Editor: Alex Lubars
Studio Director: Andre Rowe Jr.
Senior Producer: Allie Kolb

Site Development: Lean Mean
CEO, Developer: Shane Martin

Stock Footage: Getty Images

UGC Curation: Catch & Release

Editorial Company "Teaser" Film: Rock Paper Scissors
Editor: Aaron Tompkins
Assistant Editors: Noah Benezra
Executive Producer: Eve Kornblum
Producer: Jenny Greenfield

Telecine Company: MPC
Senior Colorist: James Tillett
Executive Producer: Chris Connolly
Producer: Kay Carpenter

Conform / Finish Company: MPC
Creative Director/Flame Lead: Tom McCullough
Flame Assist: Marcus Wood
After Effects Artist: David Manzo
Executive Producer: Camila De Biaggi
Senior Producer: Anna Kravtsov

Music: Pulse
Composer: Charles Humenry for Pulse Music
Executive Producer: Dan Kuby

Audio Post:
Chief Engineer: Cory Bauman

Casting:
Casting Director: Janet Eisenberg

Sector:
03: PUBLIC INTEREST OR CHARITY
Notes:
Contentious statues have been torn down all across America, leaving behind empty pedestals in their wake. It's time to place new symbols in their stead. The Pedestal Project is born of the vision to repurpose these ill-conceived pedestals by using technology to help people choose the statues that should go up on them. Statues of people who have dedicated their lives to fighting for justice and equality. So that beacons of hope and progress can stand where symbols of hope and inequality once stood. And that people everywhere can have an active voice in the movement for racial justice.