19: BRAND PURPOSE (BRAND PURPOSE)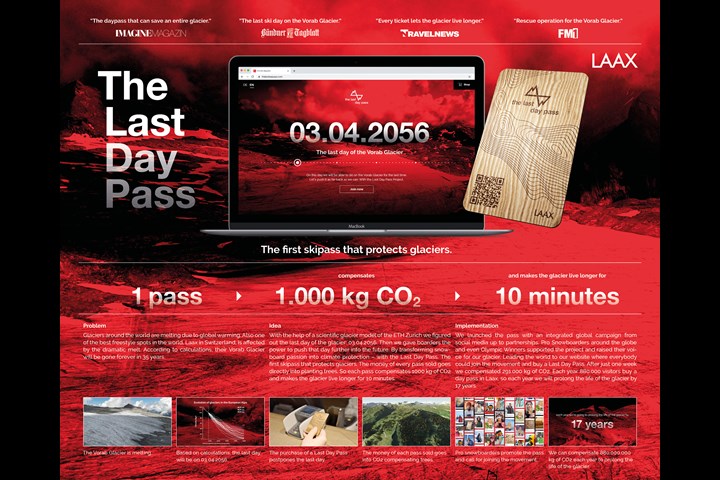 JPG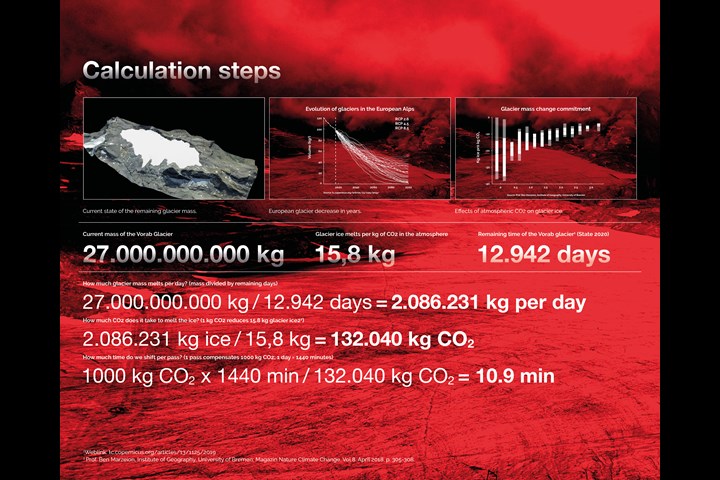 JPG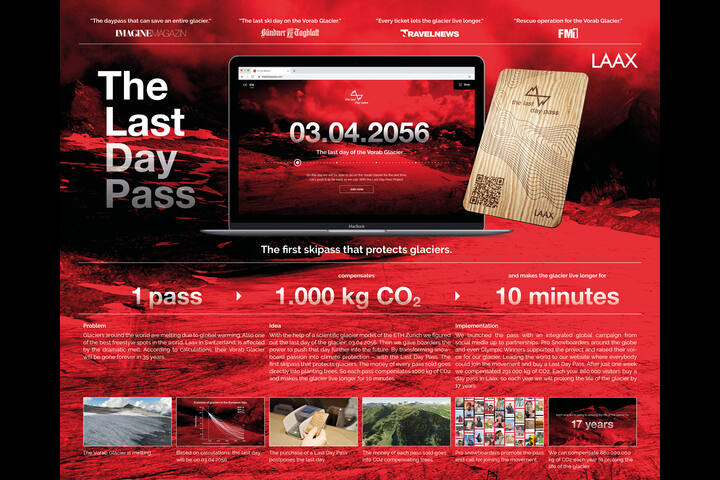 MP4 2m:05s
The Last Day Pass - LAAX
The Last Day Pass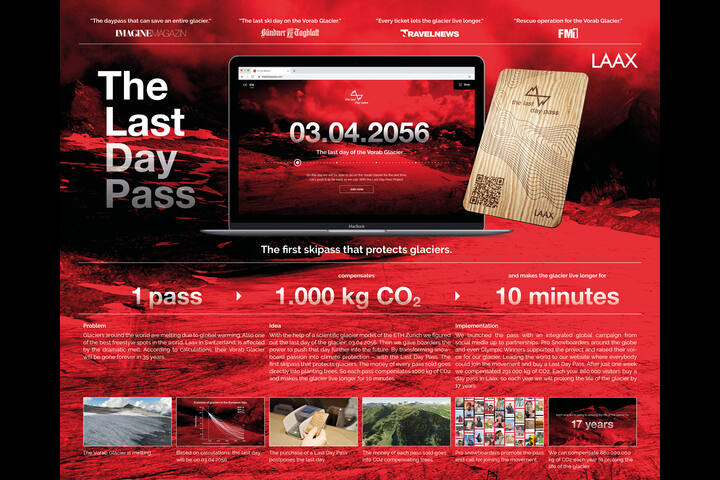 Gold
Title of Entry:
The Last Day Pass
Brand:
LAAX
Product/Service:
The Last Day Pass
Client:
Mountain Vision
Entrant Company:
SERVICEPLAN GERMANY
Creative Team:
Global Chief Creative Officer: Alex Schill
Chief Creative Officer Germany: Matthias Harbeck
Senior Art Director: Michael Lux & Stephan Westerwelle
Creative Director: Friederike Fröhlich
Creative Managing Partner: Markus Maczey
Executive Creative Director: Tobias Mayer
Account Management: Julia Nicolaisen
Junior Copywriter: Laura Bergler
Senior Account Manager: Nadège Jaussi
UX/UI Designer: Alexander Kneifel
Executive Producer: Steffen Rodewoldt
Producer: Sandra Cavero
Camera: Manuel Zoller
Editor: Benedikt Haas
Other Credits:
Digital Agency: PLAN.NET GERMANY
Film Production Company: NEUSUPER
Sector:
N/A
Notes:
PROBLEM:
Glaciers around the world are melting due to global warming. The Vorab glacier in the popular ski resort of Laax in Switzerland is also affected by the dramatic melt. According to calculations, it will be gone forever in 35 years.


IDEA:
Together with ETH Zurich we calculated the last day to ski on the glacier – 03.04.2056. Then we gave boarders the power to push that day further into the future. By transforming snowboard passion into climate protection – with the Last Day Pass. Each pass sold postpones the last day by 10 minutes, because the proceeds are used to compensate for a guaranteed amount of 1000 kg of CO2. In addition, trees are planted around the glacier to also bind CO2 from the atmosphere in the long term.


EXECUTION:
With a 360° campaign, we promoted the Last Day Pass and drew attention to the melting glaciers. Large OOH visualized the problem with red signal colour and strong headlines. Posters and Stickers spread the case in the entire ski area. In addition, the back of every ski ticket sold in Laax is printed with the key visual of the Last Day Pass project. We posted ads on all social media platforms. And even international pro-snowboarders promoted the pass and raised their voice to join the movement. The famous snowboard brand Burton supported the project and sold the pass in their flagship store. Within one week we compensated 291.000 kg of CO2. Each year 880.000 visitors buy a day pass in Laax, so each year we can prolong the life of the glacier by 17 years.