5: SOCIAL (SOCIAL CAMPAIGN (INTEGRATED USE OF 2 OR MORE OF ABOVE))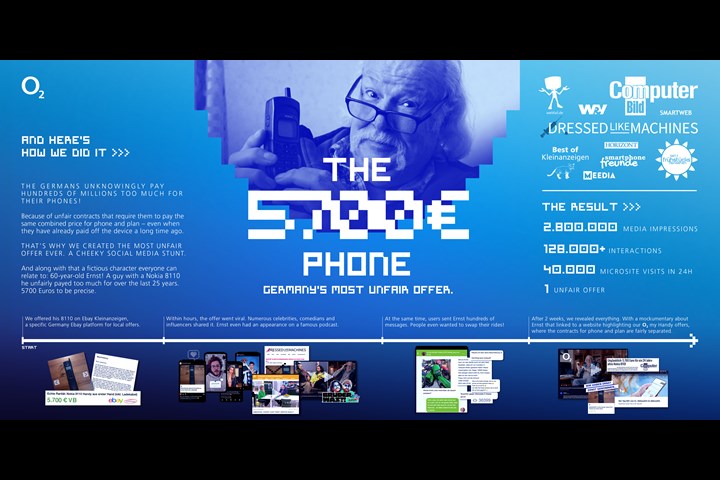 JPG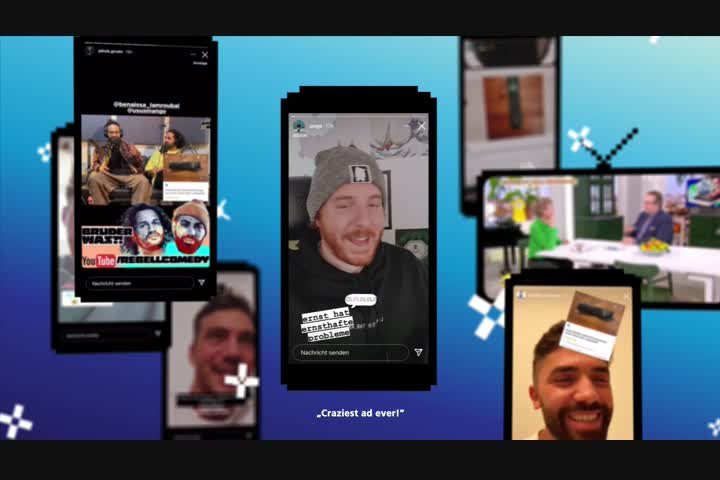 MP4 2m:00s
The 5700 Euro phone. Germany's most unfair offer. - O₂
O₂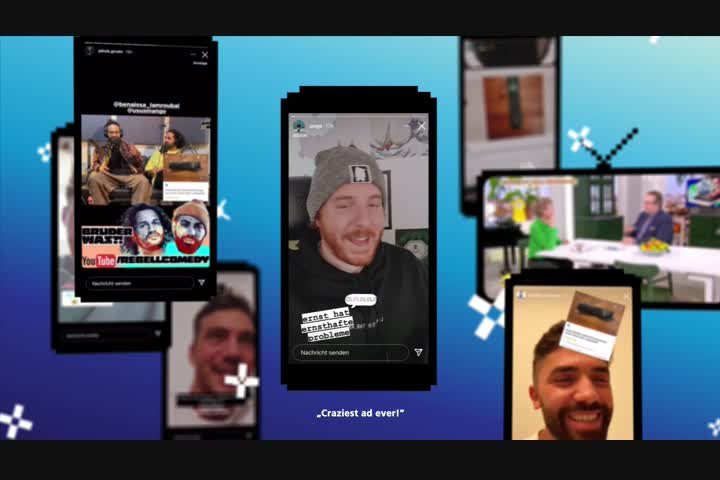 Shortlist
Title of Entry:
The 5700 Euro phone. Germany's most unfair offer.
Brand:
O₂
Product/Service:
O₂
Client:
Telefónica Germany / O₂
Entrant Company:
SERVICEPLAN GERMANY
Creative Team:
Global Chief Creative Officer: Alex Schill
Managing Partner: Leif Johannsen, Patrick Matthiensen & Lars Holling
Creative Director Copy: Daniel Steller
Creative Director Art: Pavel Bondarenko
Senior Art Director: Martin Gillen
Senior Art Director: Finnja Skornia
Junior Art Director: Theresa Fechler
Junior Copywriter: Steven Hartmann
Etat Director: Sabrina Schwartz
Account Manager: Jennifer Grünsfelde
Agency Producer: Katrin Habermann
Director: Martin Krejci
DOP: Stepan Kucera
Editor: Filip Malasek
Producer: Nils Schwemer & Julian Holland, Iconoclast
Client: Chief Consumer Officer: Wolfgang Metze
Client: Director Brand & Marketing Communications: Michael Falkensteiner
Client: Head of Competence Center Communications: Brigitte Giels
Client: Senior Brand Communications Manager: Stefanie Welter
Client: Principal End-to-End Communications: Nikolaus Lemli
Other Credits:
Film Production Company: EMMA.FILM
Additional Film Production Company: NEVEREST HAMBURG
Sound Design: SUPREME MUSIC
Media Agency: forward Media
Influencer-Agency: Intermate
POS-Agency: Punch & Brain
Sector:
01: CONSUMER PRODUCT OR SERVICE
Notes:
CHALLENGE:
The Germans unknowingly pay hundreds of millions too much for their phones!
Because of unfair contracts that force them to pay the same combined price for phone and plan – even when they have already paid off the device a long time ago. Unfair stuff! With o2 my handy, you get two separate contracts. Which means: you can be sure to never overpay for your phone. So, to raise awareness about the problem and to communicate our fair offers, a big splash was needed.


IDEA:
A cheeky social media stunt. The 5700 Euro Phone. Germany's most unfair offer.


SOLUTION:
We invented a character: 60 year-old Ernst. Ernst has a Nokia 8110 that he pays off since 1996. That's over 5700 Euros! So, we wrote a funny and insanely unfair offer for his phone and put it up for sale on a platform where people search for fair deals. Ebay local ads. A German speciality. The price: 5700 Euros. The same amount he paid too much for the last 25 years. Within hours, the offer created a lot of buzz. Celebrities, influencers and blogs shared it on Facebook and Instagram. Users commented like crazy and wrote hundreds of direct messages to Ernst as a result. On top of that, Ernst even had an appearance on a famous podcast on Spotify and Youtube, where the hosts called our actor and negotiated with him to buy the phone. With thousands of people listening. And after two weeks, we revealed the story. With a mockumentary about Ernst that linked to a microsite where users could find our fair offers. And additional social media assets that spread the message.