5: SOCIAL (INFLUENCER CAMPAIGNS)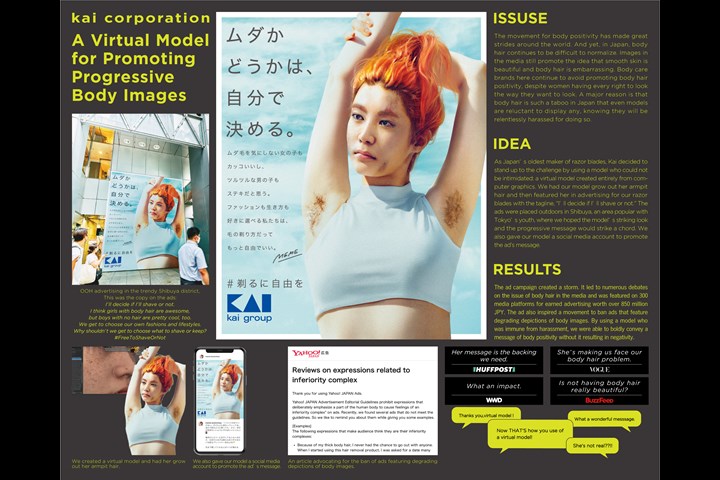 JPG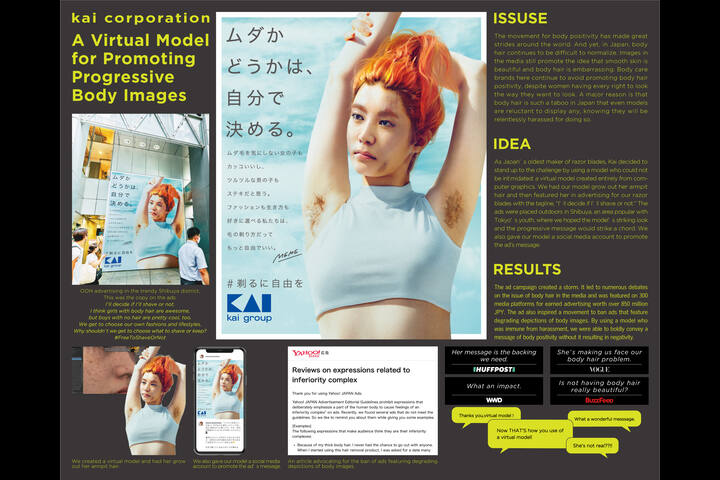 MP4 2m:00s
A Virtual Model for Promoting Progressive Body Images. - Kai Corporation
razor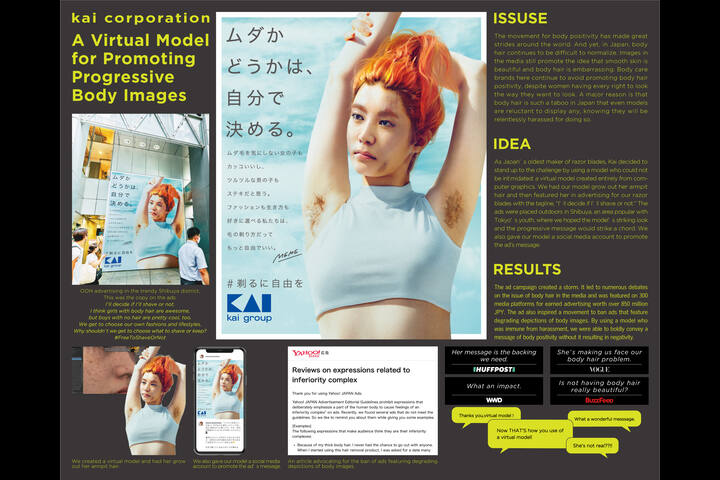 Shortlist
Title of Entry:
A Virtual Model for Promoting Progressive Body Images.
Brand:
Kai Corporation
Product/Service:
razor
Client:
Kai Corporation
Entrant Company:
DENTSU INC./DENTSU AD-GEAR INC.
Creative Team:
Executive Creative Director: KAZUNORI KAWAGOSHI
Creative Director / Art Director: HITOMI MATSUSHITA
Creative Director / Planner: YOSHIFUMI SATO
Planner: MISAKI NISHIKAWA
Copy Writer: MAI MIURA
Copy Writer: haru.
Art Director: AKANE SANO
PR Director: TAIKI AOYAMA
PR Planner: TAKUMA SONE
PR Planner: TAPPEI UNO
Designer: YUKO ISHIZUKA
CG Director: DAICHI KANBAYASHI
CG Director: MOE HASHIZUME
CG Designer: SHAUN NAKAYAMA
CG Designer: ATSUSHI ENDO
Account Executive: SAKI MITANI
Account Executive: TAKUMI EGUCHI
Account Executive: SAKURAKO YASUDA
Other Credits:
Client: JUNICHI SAITO
Client: YUKA HATATANI


Sector:
N/A
Notes:
ISSUE:
The movement for body positivity has made great
strides around the world. And yet, in Japan, body
hair continues to be difficult to normalize. Images in
the media still promote the idea that smooth skin is
beautiful and body hair is embarrassing. Body care
brands here continue to avoid promoting body hair
positivity, despite women having every right to look
the way they want to look. A major reason is that
body hair is such a taboo in Japan that even models
are reluctant to display any, knowing they will be
relentlessly harassed for doing so.

IDEA:
As Japan' s oldest maker of razor blades, Kai decided to
stand up to the challenge by using a model who could not
be intimidated: a virtual model created entirely from com-
puter graphics. We had our model grow out her armpit
hair and then featured her in advertising for our razor
blades with the tagline, "I' ll decide if I' ll shave or not." The
ads were placed outdoors in Shibuya, an area popular with
Tokyo' s youth, where we hoped the model' s striking look
and the progressive message would strike a chord. We
also gave our model a social media account to promote
the ad's message.

RESULTS:
The ad campaign created a storm. It led to numerous debates
on the issue of body hair in the media and was featured on 300
media platforms for earned advertising worth over 850 million
JPY. The ad also inspired a movement to ban ads that feature
degrading depictions of body images. By using a model who
was immune from harassment, we were able to boldly convey a
message of body positivity without it resulting in negativity.