9: INTEGRATED (Integrated)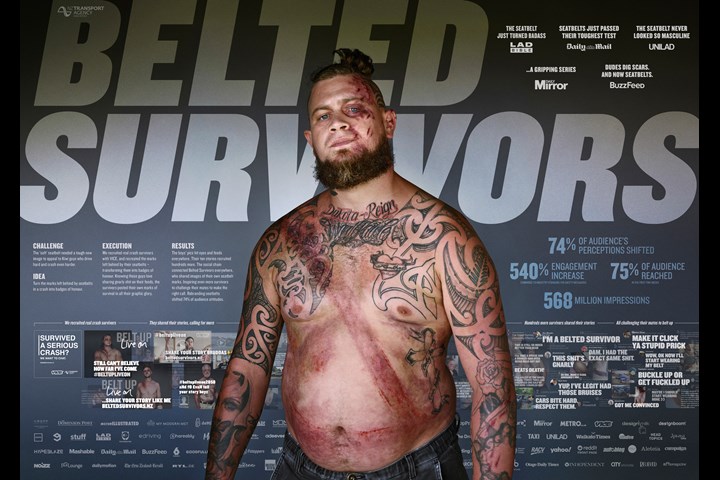 JPG
MP4 2m:00s
Belted Survivors - NZ Transport Agency
Road safety
Silver
Title of Entry:
Belted Survivors
Brand:
NZ Transport Agency
Product/Service:
Road safety
Client:
NZ Transport Agency
Entrant Company:
Clemenger BBDO Wellington
Creative Agency:
Clemenger BBDO Wellington
Creative Director:
Brigid Alkema
Sector:
PUBLIC & SOCIAL
Date of Release:
2020-02-14
Notes:
Background
• Situation • Brief • Objectives

Live hard. Crash harder. Staunch young males make up the majority of NZ's unrestrained crash fatalities. They reckon seatbelts are for kids, the elderly, the weak. It's an unnecessary accessory that dents their manhood. 40% would've survived if they'd been belted up. Their perception of seatbelts needed to shift from a sign of weakness to a tool for survival. Seatbelts needed to be rebranded with a new image: a tougher one. But this rebellious, rule-breaking, anti-establishment audience would switch off at the first hint of safety messaging. They won't listen to a government PSA. But they do listen to and respect their peers. To connect with them, it had to come from our target audience themselves.




Describe the creative idea
• Data insights • Innovation • Originality

Our audience love sharing gnarly shit. So graphic imagery was used for good. Real crash survivors proudly wore their seatbelt wounds as badges of honour; confronting marks of survival that proved there's nothing soft about seatbelts. Belted Survivors gave our audience powerful proof they couldn't deny, delivered over social by peers who'd lived through a crash themselves. Using the real survivors of crashes to authentically deliver our message for us, and transforming crash 'victims' into powerful advocates of strength, survival, and of making the right call. Who then encouraged thousands more survivors like them to share their own tales of survival, too. Using the influence of real survivors around the world to encourage their own mates to make a good call like them – and for the first time, making the positive impact a seatbelt can make personally relevant to our audience.


 
Describe the strategy
• Data gathering • Target audience (consumer demographic / individuals / organisations) • Approach • Call to action

We knew our audience liked talking about their injuries. It was a great yarn. Proof of their toughness. And we knew they loved sharing gnarly shit over their feeds. So we leaned into the brutal side of seatbelts, with confronting content we knew our audience couldn't look away from, or resist sharing. In partnership with VICE (an outlet these guys respect), a national call-out gathered hundreds of real stories from crash survivors who had a seatbelt to thank. They became advocates for our message, owning the campaign, giving our message undeniable cred, and delivering it straight into their mates' feeds. They called out to mates to make a good call like them, and for other survivors to share their own tales of survival or pics of their own badges of honour, who then encouraged more mates to do the same. Sparking a cycle or survivors encouraging more survival.



Describe the execution
• Implementation • Timeline • Placement • Scale

The survivors shared their images first, over their own social channels. Their mates spread them. The boys' stories of survival were picked up and shared by national, then global media, hitting feeds everywhere. The social chain empowered survivors across the world to use their own story to challenge their mates to make the right call, by sharing their own pics and stories. Over months, the campaign evolved with planned, organic and tactical new social content, with the survivors' stories at their heart. At every moment, the survivors shared what they lived on for on their feeds. FaceApp posts gave glimpses into their futures. VICE docos revealed their stories. They posted about partnering with NZ Police to run tailored workshops with our audience. Every new piece of content was an opportunity to engage the survivors' mates again and again –reinforcing the 'Belt Up, Live On' message in our audience's feeds.


 
List the results
• Business impact – sales, donations, site traffic • Response rate • Change in behaviour

With over half a billion impressions worldwide, Belted Survivors has resonated back where our hard-to-reach audience is centred, in provincial New Zealand. Recall of Belted Survivors is nearly 3x higher amongst young males than the general population. And nearly 4x higher than previous seatbelt campaign recall. For an audience who usually skip or keep scrolling, Belted Survivors saw a 540% increase in audience engagement, compared to NZ Government standards for social marketing to this audience. The campaign also inspired a long-term initiative with the NZ Police, with survivors partnering in the development of workshops focused on seatbelt safety. Their stories have inspired hundreds of others to share their own tale of survival at beltedsurvivors.nz, and to share images of their own seatbelt marks over social. Every comment and image adding more proof to the undeniable impact seatbelts can make – and helping lead to a 74% perception shift for our audience.