7: BRAND ENTERTAINMENT (Branded film/video (fiction))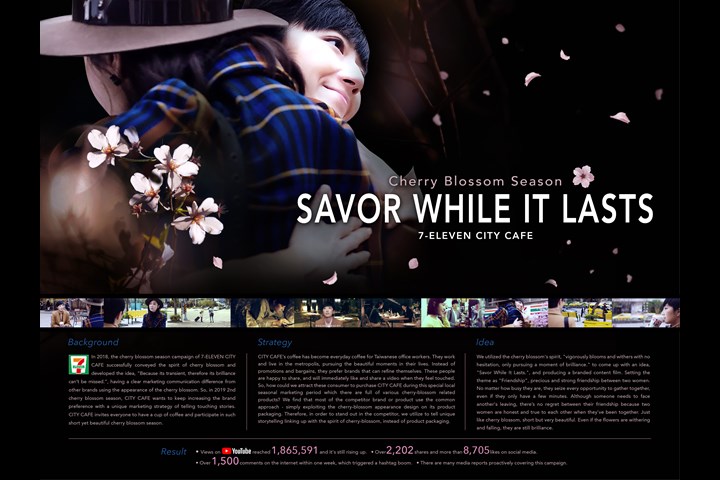 JPG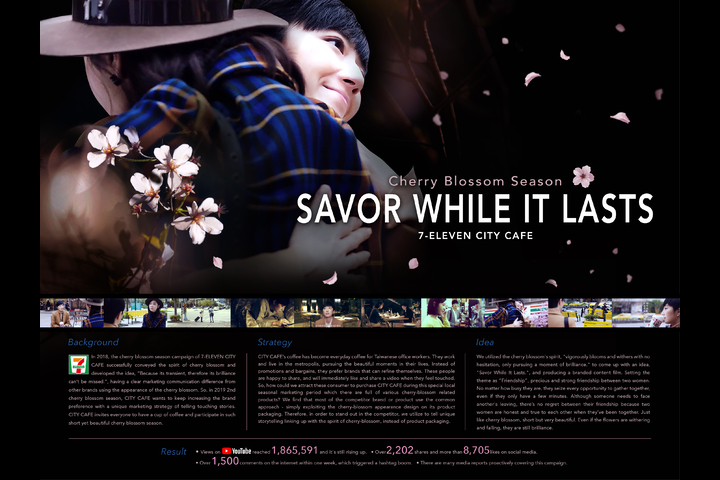 MP4 5m:36s
Savor While It Lasts - 7-ELEVEN Taiwan
CITY CAFE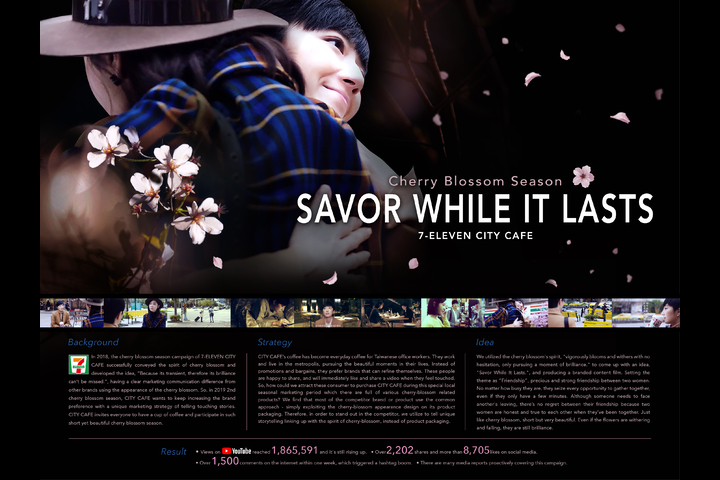 Bronze
Title of Entry:
Savor While It Lasts
Brand:
7-ELEVEN Taiwan
Product/Service:
CITY CAFE
Client:
7-ELEVEN Taiwan
Entrant Company:
ADK TAIWAN
Creative Agency:
ADK TAIWAN
Chief Creative Officer:
Richard Yu
Creative Director:
Lion Tsai
Art Director:
Richard Yu, Jojo Hsu, Jacky Hsu
Copywriter:
Lion Tsai, Apple Wang, Ennis Chen
Account Executive:
Toby Chang
Sector:
NON-ALCOHOLIC DRINKS
Account Manager:
Yuchun Chung, Huge Lin
Production Company:
BLUE MOON FILMS
Producer:
Ivy Lien
Date of Release:
2019-03-14
Director:
Ging-Zim, Lo
Notes:
Cherry-blossom season, is major seasonal marketing in Taiwan, most of FMCG brands will launch lots of cherry-blossom related product during this period. CITY CAFE is a leading coffee brand and its exquisite advertising are deeply rooted in consumers' minds. For this seasonal campaign, CITY CAFE wants to keep increasing the brand preference with a unique marketing strategy of telling touching stories, inviting people to savor a cup of coffee in this short yet beautiful cherry blossom season together.

CITY CAFE has become everyday coffee for Taiwanese office-workers. They pursue the beautiful moments in their lives. Instead of promotions and bargains, they prefer brands that can refine themselves. And willing to share the content when they feel touched. So, in order to raise purchasing for CITY CAFE during this seasonal marketing period which is full of various cherry-blossom related products, we utilize the unique storytelling linking up with the spirit of cherry-blossom, instead of product packaging.

(The most common approach that competitors used is simply exploiting the cherry-blossom appearance design on product packaging.)

Utilizing the cherry blossom's spirit, "vigorously blooms and withers with no hesitation, only pursuing a moment of brilliance." to develop the idea, "Savor While It Lasts.", and producing a branded content film. Setting the theme as "Friendship", the precious and strong friendship between two women. No matter how busy they're, they seize every opportunity to gather together, even if only a few minutes. Like cherry blossom, short but very beautiful.

We shoot the film with 35mm negatives. Excellent performances and the spark between two award-winning actresses became a hot topic. Unique storytelling as well as quality, metropolitan microfilms also powerfully resonate with people. The film released on the screen of every 7-ELEVEN stores as well as its all owned social media platform, and it went viral within only one week.

Result
Over one million views on YouTube within one week and it's still rising up. Over 2000 shares and more than 7000 likes on social media. Over 1500 comments on the internet within one week, which triggered a hashtag boom. There are many media reports proactively covering this campaign.