11: BRAND PURPOSE (Brand Activism)
JPG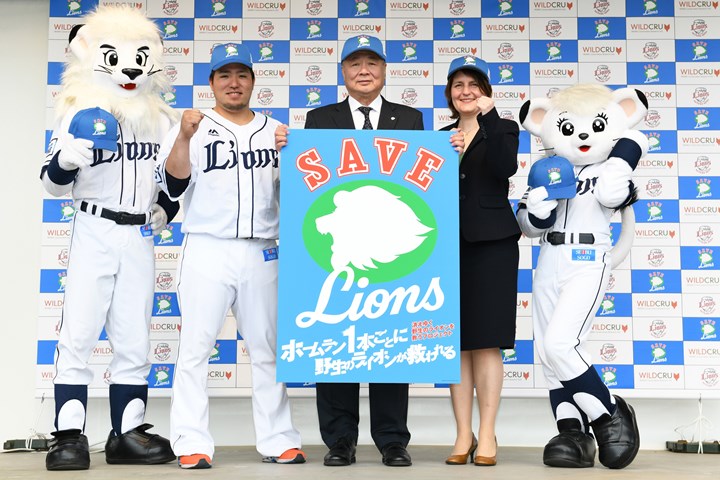 JPG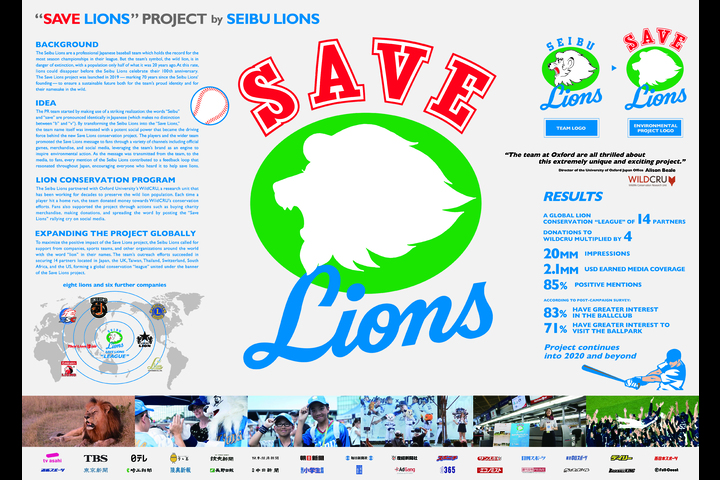 MP4 2m:00s
SAVE LIONS PROJECT - SEIBU LIONS, INC.
Corporate Communication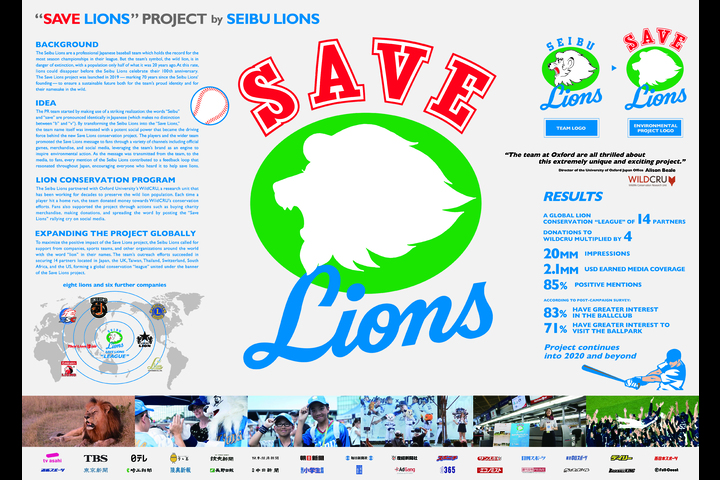 Shortlist
Title of Entry:
SAVE LIONS PROJECT
Brand:
SEIBU LIONS, INC.
Product/Service:
Corporate Communication
Client:
SEIBU LIONS, INC.
Entrant Company:
DENTSU INC.
Creative Agency:
DENTSU INC.
Judging URL:
https://www.seibulions.jp/special/savelions/
Title 1:
Webpage
Title 2:
Press Event
Creative Director:
Kota Izuhara
Art Director:
Tomonori Saito
Copywriter:
Kota Izuhara
Sector:
N/A
Producer:
Takashi Shimazu
Date of Release:
2019-03-19
Notes:
■Objectives : 
The world's wild lion population has fallen to 20 percent of what it was a century ago, according to research by Oxford University. To respond to this crisis and mark their 70th anniversary, Japanese professional baseball team the Seibu Lions launched a player- and staff-driven initiative to save their mascot animal from extinction, with three goals in mind: to support conservation organizations' efforts to lessen conflict between lions and humans (a major factor in lion depopulation); to establish an international network of project partners; and to ensure wild lions' future beyond the Seibu Lions' centennial.

■Strategy:
The campaign was founded on the clever realization that the team name, "Seibu Lions," is pronounced just like the phrase "save lions" in Japanese (which makes no distinction between the "b" and "v" sounds). The transformation of the Seibu Lions into the "Save Lions" was designed to leverage the team name's unique influence over the target audience, with its potential to turn fans' passion for the team into an engine driving environmental action. With the new team name, every time fans cheered for the Seibu Lions, they were also generating excitement about saving lions. To reach fans of all ages and genders, the message was communicated both at the ballpark and via diverse media touchpoints. Meanwhile, Oxford University's WildCRU research unit (a frontrunner in lion conservation efforts) was chosen as an optimal strategic partner because of the university's global reputation and network. This partnership was utilized to seek participation from organizations globally in order to help save as many lions as possible.

■Creativity:
The fundamental creative idea, which restyled the Seibu Lions as the Save Lions (both pronounced identically in Japanese), was calculated to capture fans' hearts and inspire them to act both for the team and for wild lions. A similar creative process was applied to the iconic Seibu Lions logo, originally created by world-renowned manga artist Tezuka Osamu. The logo's familiar mascot character was replaced with a blank lion-shaped silhouette, creating a compelling visual metaphor for the urgent problem of wild lions' disappearance. Team uniforms with the new Save Lions visuals were created for players to wear on the field, while fans bought specially produced team merchandise displaying the same memorable project logo, with a portion of sales donated to conservation efforts.

■Execution:
For every home run of the 2019 season, the Seibu Lions donated 10,000 yen (about 100 USD) to WildCRU. Without running any advertising, the initiative sought to capture widespread attention by involving all of the team's players and staff as enthusiastic communicators at ballgames and events. Team members also appeared at official games wearing uniforms with the new Save Lions logo, in a visual display of commitment that inspired fans to participate by donating and posting as part of a charity campaign on social media. One of the project highlights was a Save Lions Day event organized for World Lion Day in August. Held on an official game day, the event was leveraged to communicate about lions' predicament to the 30,000 fans who attended. Throughout the campaign, the project team reached out globally to secure additional Save Lions partners, utilizing its connection with Oxford University to boost credibility and support.

■Success and results:
Annual donations to WildCRU quadrupled over the previous year. These funds will enable WildCRU to increase the total area of lion habitat covered by livestock protection nets (a measure that prevents conflict between humans and lions), potentially helping to save up to 65 lions annually. The campaign was featured extensively on TV and in other media, and achieved 20 million impressions (earned media coverage value: 2.1 million USD), with 85 percent of Twitter comments expressing favorable views. Turnout at Seibu Lions games also rose by 60,000 year-on-year. In a post-campaign survey, 74 percent of respondents reported greater interest in environmental issues, and 83 percent said the campaign boosted their interest in the Seibu Lions. Furthermore, Seibu Lions players and staff reaffirmed their commitment to the club as they embraced the role of project spokespeople at symposiums and in the media. Global outreach efforts established an international network of over 10 sports teams and other organizations (many also named after lions) that went on to launch Save Lion projects of their own. After a successful first year, the Seibu Lions are committed to sustaining the project in coming seasons.
Other Credits:
Strategic Planner: Miu Tanase
Other Credits:
PR Planner: Tomoya Oka / PR Planner: Yuichiro Hagiwara / PR Planner: Shinnosuke Imai / PR Planner: Koichi Tanaka / PR Planner: Mai Nakazawa / PR Planner: Masato Ichimura / PR Planner: Ayumu Namiki
Other Credits:
Translator: Larissa Bishop
Other Credits:
PR Agency: Dentsu Public Relations Inc.
Other Credits:
Film Production: HUNGRY inc.