4: AMBIENT AND EXPERIENTIAL (Experiential)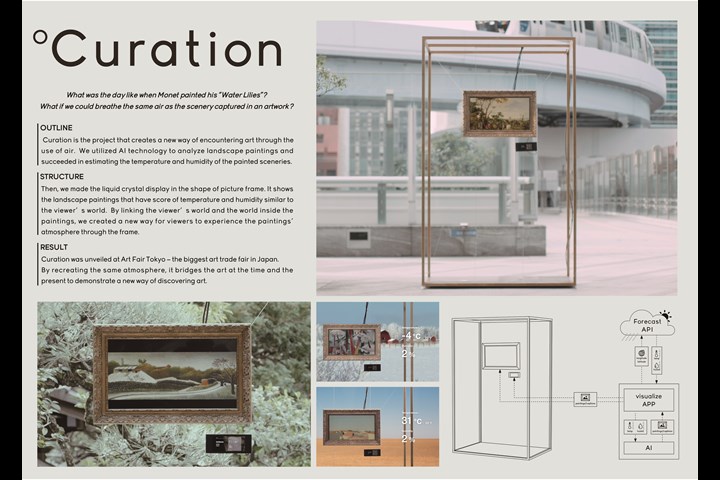 JPG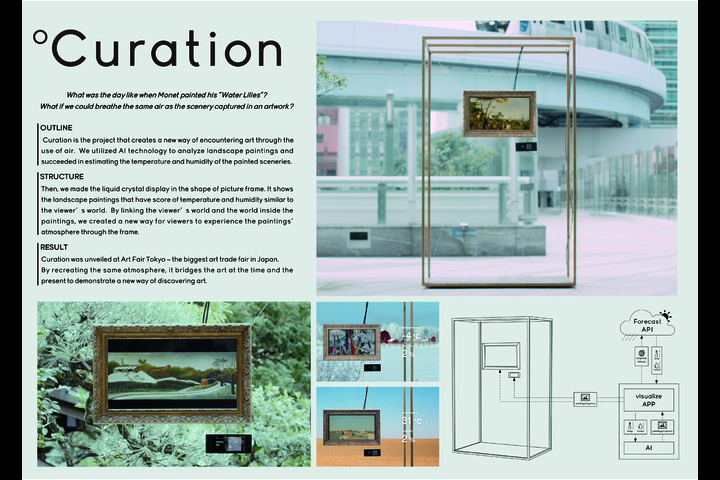 MP4 2m:00s
℃uration - Art Tokyo Association
Event organization (Art Fair Tokyo)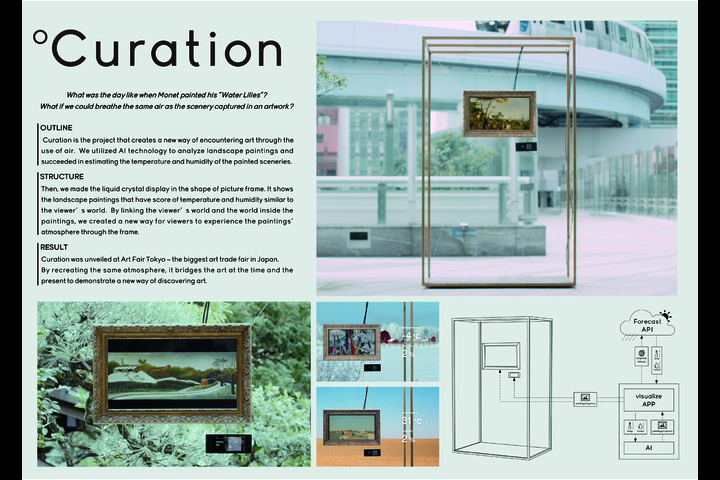 Shortlist
Title of Entry:
℃uration
Brand:
Art Tokyo Association
Product/Service:
Event organization (Art Fair Tokyo)
Client:
Art Tokyo Association
Entrant Company:
DENTSU INC.
Creative Agency:
DENTSU INC.
Judging URL:
http://
Creative Director:
Kazuyoshi Ochi
Art Director:
Naomi Okamura
Sector:
CORPORATE IMAGE
Date of Release:
2019-03-07
Photographer:
Rakutaro Ogiwara
Notes:
[Description ]
What was the day like when Monet painted his "Water Lilies"?
What if we could breathe the same air as the scenery captured in an artwork?

℃uration is the project that creates a new way of encountering art through the use of air.
We utilized AI technology to analyze landscape paintings and succeeded in estimating the temperature and humidity of the painted sceneries.
Then, we made the liquid crystal display in the shape of picture frame. It shows the landscape painting's temperature and humidity score similar to the viewer's world. By linking the viewer's world and the world inside the painting, we created a new way for viewers to experience the painting's atmosphere through the frame.

℃uration was unveiled at Art Fair Tokyo – the biggest art trade fair in Japan.
By recreating the same atmosphere, it bridges the art at the time and the present to demonstrate a new way of discovering art.

[About Technology]
In this project, we had to prepare an abundant sample data as we used deep learning to estimate the scenery's temperature. Then, we built a dataset made by geotagged and time stamped picture about 6700000 samples to unite public domain picture dataset(Yahoo Flickr Creative Commons 100M) and meteorological dataset(Global Historical Climatology Network)

We trained a deep learning model with the dataset and created an AI that can estimate the temperature and humidity of the image. By using the AI, we have succeeded in estimating "the painting's world's" temperature and humidity scores. Those scores of the viewers' environment are acquired in real-time and entered into the AI. The AI then refers to public domain data on paintings which has been made available by art galleries all over the world.

We made it possible to suggest by the air and create a new way of discovering art by using the AI that estimates temperature and humidity by pictures.
Then, we produced a more dynamic art experience by connecting real-time meteorological data.
URL Link (optional):
https://curation-ai.com/
Other Credits:
Creative Technologist : Ryoya Sugano, Shintaro Murakami
Other Credits:
Director : Kenta Suzuki
Other Credits:
Producer : Kohei Ai, Yoichi Kanazawa, Jun Kato, Akari Eda
Other Credits:
Product Designer : Yusuke Kitani
Other Credits:
Programmer : Toru Urakawa
Other Credits:
Production company : kaibutsu inc., Dentsu Creative X Inc.