3: PRINT, OOH (Poster/Billboard campaign (2-6 executions))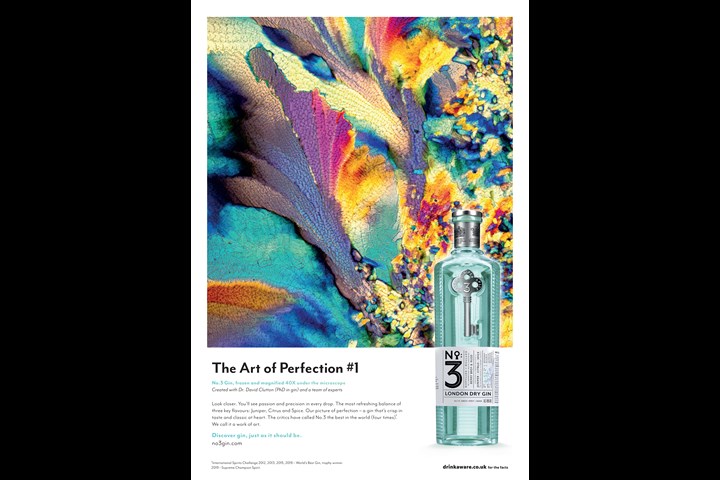 JPG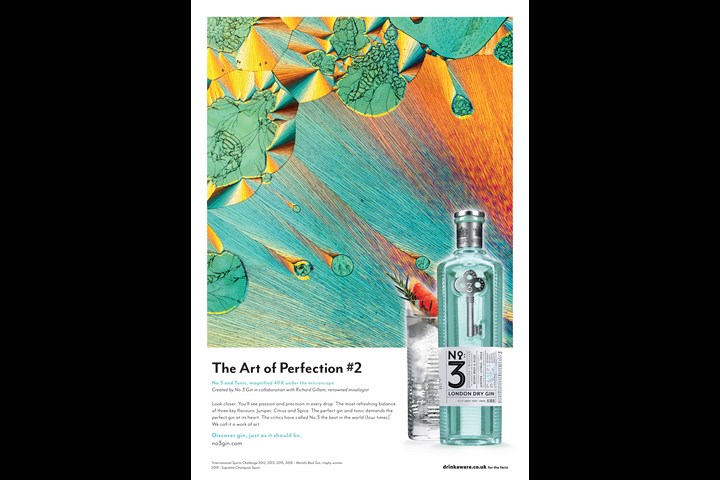 JPG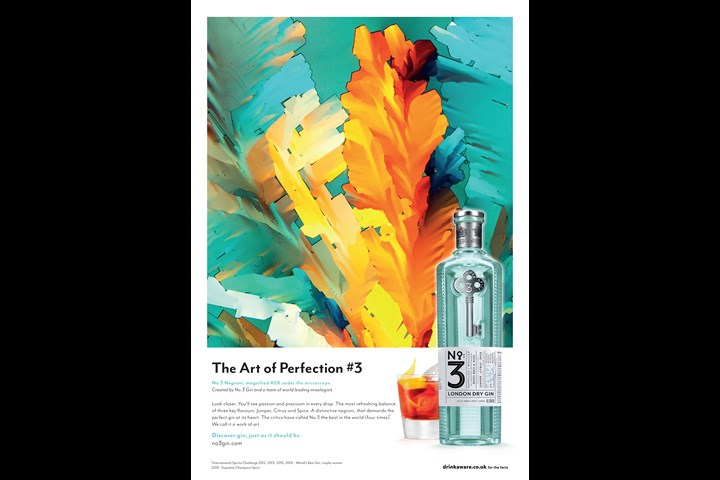 JPG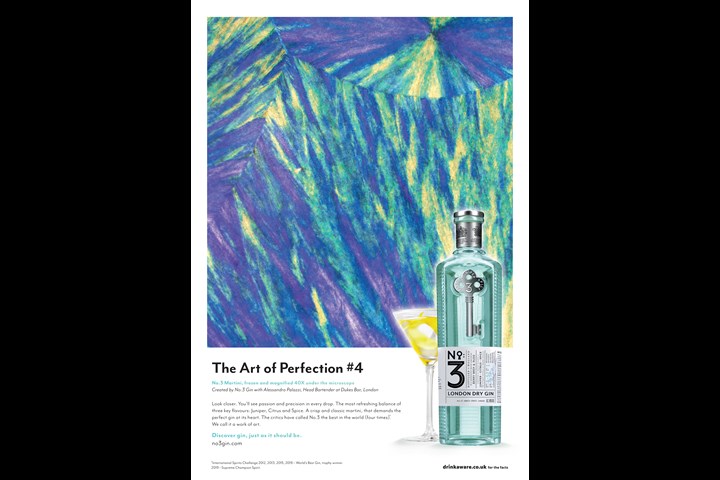 JPG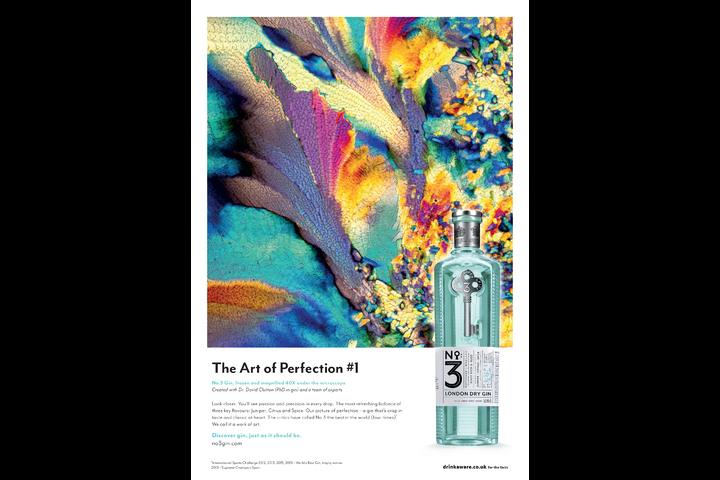 MP4 2m:00s
The Art of Perfection - No.3 Gin
No.3 Gin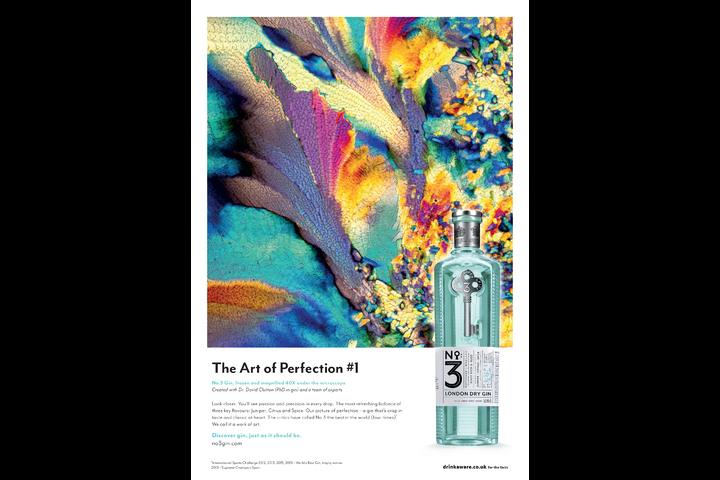 Shortlist
Title of Entry:
The Art of Perfection
Brand:
No.3 Gin
Product/Service:
No.3 Gin
Client:
Harriet Chandler
Entrant Company:
BBD Perfect Storm
Creative Agency:
BBD Perfect Storm
Creative Director:
Seb Hill
Art Director:
Jacob Hill-Gowing
Copywriter:
Tamsin Thom
Sector:
ALCOHOLIC DRINKS
Account Executive:
Megan Marshall
Account Manager:
Ben Ryall
Date of Release:
2019-10-01
Photographer:
Justin Zoll
Notes:
No.3 Gin had recently undergone a refreshing bottle makeover and looked to us to relaunch it to the market along with a new brand platform.

Our brief was to create a print and OOH campaign that would make No.3 stand out in a saturated market. One that would not only drive demand from consumers and sales through trade, but also celebrate their rich tradition and artistry in creating the perfect gin, whilst carving a new place for it in today's world.

It's the epitome of a classic London Dry Gin – one that's been crowned Best in the World four times. No.3's product credentials are second to none. Yet they were getting lost in the sea of competition, up against gins with larger name recognition and bigger budgets. With a small budget of £60,000 for ideation, rollout and production, we needed something that would make a big splash in the category.


Our campaign needed to appeal to a discerning group of 25-45 year olds, with a passion for the perfect gin taste. Progressive individuals, always striving for perfection, but who still value tradition, and craftsmanship. We wanted our key target audience to truly 'see' No.3 Gin for what it was - exceptional.

We turned to the product itself for answers. On the surface, No.3 Gin may look like all the rest, but get closer, 40X closer to be precise, and you'll see what makes it a work of art. We partnered with micro-photographer Justin Zoll. Working in his New York-based studio, we crystalised, froze and captured the World's Best Gin, its key serves, and its ingredients under the microscope. What it revealed was a remarkable kaleidoscopic world - micro landscapes that looked more like paintings than beverages. We called this, the Art of Perfection. Our new brand platform.

We turned these microphotographs into a series of art prints, creating a citywide exhibition for all to see. Our design was flexible enough to be applied everywhere; as posters and OOH digital screens across the city. We also made a splash of colour in stores and windows across the city, on tote bags, and social media, flooding the city with No.3's colours and patterns.

For relaunch, we created a new brand book, evolving our personality and outlining a new tone of voice with 'The Art of Words.' We also created packaging and gift boxes to show off our pattern. We launched the new positioning internally with a gorgeous internal brand film plus campaign and trade aids. The new platform made its debut at London Design Festival and what followed was a series of eye-catching activations and tasting events. From large scale events to the smallest touches - every detail considered.

Consumers couldn't tear their eyes away from the vivid artwork of No.3 Gin and people started asking for No.3 by name. After seeing the campaign in the Berry Bros. & Rudd store, Harvey Nichols approached No.3 to take centre stage in its windows in the lead up to Christmas. And the American Bar at the Savoy, one of the oldest and most iconic bar's in London also requested to feature No.3 as their gin of the month.

With 25.9m media impressions, No.3 stood out from the crowd and customers took notice. Not only did click-through rates to No.3 Gin's website go up by 300%, but most importantly, sales went up an incredible 49.8% year on year, and 48% through Amazon. Proof that this relaunch was a massive success for No.3. The Art of Perfection is a campaign as considered, and as beautiful, as the drink itself.