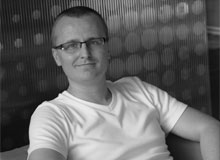 Petr Bucha
Content and Creativity Lead
Accenture Interactive
Petr started his journey in the advertising business in 1994 as a Copywriter at Ogilvy & Mather. During his time at the agency, he rose to the position Senior Copywriter and then to Creative Director. In 2002, he joined Bates/Red Cell as its Creative Director. In 2005 he moved to Fabrika Advertising Agency. In 2015 he moved to Loosers, a small independent agency with a team of experienced big agency creatives, and recently joined Accenture Interactive as Content and Creative Lead. Petr holds a degree from Chalres University in Prague and has won awards at Cannes and at Golden Drum Festival.